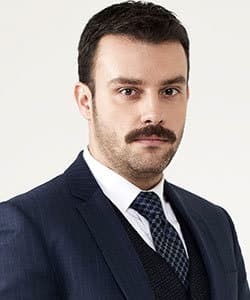 Profile
Name: Salih Bademci
Birthdate: August 15, 1984
Birthplace: Izmir, Turkey
Height: 179 cm
Eye Color: Brown
Hair Color: Black
Education: Bornova Anatolian High School (Bornova Anadolu Lisesi)
Talent Agency:
Spouse: Imer Ozgun (m. August 2015-present)
Children: Iklim Bademci
Biography: Salih Bademci is famous for his role in Rental Love (Kiralik Ask) and Bride of Istanbul (Istanbullu Gelin). He got married to Turkish actress Imer Ozgun in August 2015. He took part in various theatre plays such as Moliere's The Miser (Cimri) at "Kent Oyunculari" in 2009, Marius von Mayenburg's Fireface (Ates Yuzlu) at Siyah Beyaz ve Renkli in 2010 and Hagop Baronyan's Eastern Dentist (Sark Discisi) at Istanbul City Theatre in 2011.

Salih Bademci Tv Series / Movies
Awards
2015 – 20. Sadri Alisik Tiyatro ve Sinema Oyuncu Odulleri – Secici Kurul Drama Ozel Odulu (Tesir)
2016 – 2. Turkiye Genclik Odulleri – En Iyi Yardimci Erkek Oyuncu
Theatre Plays
2009 – Cimri
2010 – Ates Yuzlu
2011 – Sark Discisi
2014 – 2015 Tesir
2014 – 2015 Big Shoot
2018 – 2019 Senaryo
2020 – 2021 Fanatik
Social
Instagram: Official Instagram Account
Twitter:
Facebook:
E-Mail:
Salih Bademci in rental love (Kiralik Ask) tv series studio