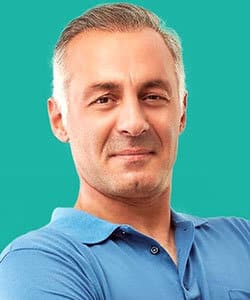 Profile
Name:
Ahmet Saracoglu
Birthdate:
September 24, 1975
Birthplace:
Ankara, Turkey
Height:
176 cm
Eye Color:
Brown
Hair Color:
Black
Education:
Mujdat Gezen Art Center (Mujdat Gezen Sanat Merkezi)
Talent Agency:
Tumay Ozokur Film Reklam
Spouse:
Biography:
Ahmet Saracoglu took part in various theatre plays before starting his tv career. He started his tv career in 1995 with turkish series Cicek Taksi. Ahmet Saracoglu founded Istanbul Royal Theatre (Istanbul Kraliyet Tiyatrosu) in 2005 together with a group of actors/actresses.
Ahmet Saracoglu Tv Series / Movies
1995 – Cicek Taksi
2000 – Story of a Snake (Yilan Hikayesi)
2000 – Number Seven (Yedi Numara) (as Mustafa)
2001 – Sweet Life (Tatli Hayat) (as Yalcin Yayvan)
2001 – Istanbul Seven Hills (Yeditepe Istanbul) (as Rustem)
2002 – Havada Bulut (as Zulfikar)
2002 – Don't Forget Me (Unutma Beni)
2003 – People of the Captive City (Esir Sehrin Insanlari)
2003 – Hurrem Sultan (as Semsi)
2003 – Sultan Makami (as Sefer)
2006 – European Side (Avrupa Yakasi) (as Tarik)
2004 – Gulizar (Movie)
2004 – Is a Woman Wants (Kadin Isterse)
2004 – Tam Pansiyon (as Erdal)
2005 – 2 Super Movies at the Same Time (2 Super Film Birden) (Movie)
2005 – Dongel Karhanesi (as Ruknettin) (Movie)
2005 – 2006 Thief and Police (Hirsiz Polis) (as Arsen Lupen)
2005 – In The Jail Now (O Simdi Mahkum) (as Kirikkafa) (Movie)
2005 – Tombala (as Depar Osman) (Movie)
2006 – 2010 Leaf Cast (Yaprak Dokumu) (as Tahsin)
2007 – Zincirbozan (as Kaya) (Movie)
2008 – Dilber's Eight Days (Dilber'in Sekiz Gunu) (as Kemal) (Movie)
2008 – Hastasiyiz (as Ahmet) (Movie)
2008 – Master (Usta) (as Zafer) (Movie)
2009 – House (Ev) (as Taner) (Movie)
2009 – Haneler (as Ahmet)
2011 – The Girl With Red Scarf (Al Yazmalim) (as Osman Biyikli)
2012 – Europe Europe (Avrupa Avrupa) (as Malik)
2011 – Turkan (Movie)
2012 – Let it Be The End (Bu Son Olsun) (as Cengiz) (Movie)
2013 – Will You Play With Me? (Benimle Oynar Mısın?) (as Taygar) (Movie)
2013 – Galip Dervis (as Dr. Selim Topuz)
2013 – Revenge (Intikam) (as Seckin)
2014 – Boynu Bukukler (as Fuat)
2014 – Filinta "Bir Osmanli Polisiyesi" (as Nafiz)
2015 – Life Kiss (Hayat Opucugu) (as Carli) (Movie)
2016 – I Am Nobody (Bir Sey Degilim) (Movie)
2016 – 2017 Flames of Desire (Hayat Sarkisi) (as Salih)
2016 – Heart of Ruzgar (Ruzgarin Kalbi) (as Kemal)
2016 – Fidelity (Sadakat) (as Ibrahim) (Movie)
2016 – 2017 Wounded Love (Vatanim Sensin) (as Ismet Inonu)
2017 – Seni Kimler Aldi (as Suat Camay)
2018 – His Story (O'nun Hikayesi) (Movie)
2019 – My Sweet Lie (Benim Tatli Yalanim) (as Sevket Dogan)
Awards
Social
Instagram: https://www.instagram.com/ahmetsaracoglu/
Twitter:
Facebook:
E-Mail:
Ahmet Saracoglu Gallery