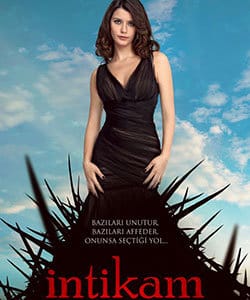 Details
Original Title: Intikam
English Title: Revenge
Also Known As: Intekam, انتقام, Osveta, Εκδίκηση, Atriebība, Hakmarrje, Отмъщението, Pomsta
Genre: Drama, Action, Romance
Episodes: 44
Broadcast Network: Kanal D
Broadcast Period: January 3, 2013 – February 20, 2014
Production Company: D Productions
Director: Mesude Eraslan
Screen Writer: Berkun Oya
Filming Locations: Kanlica, Istanbul, Turkey
Synopsis
This tv series is a remake of a popular American tv series Revenge.
Little girl, Derin has a happy life with her father Adil. However, one day her happy life turns upside down. Her father is framed for a crime he did not commit and sent to prison for life. After that, Derin is permanently separated from her father. She spends her beautiful years in orphange while believing that her father is guilty.
Years after, Derin reaches her father's diaries and learns his innocence. Now, she just wants one thing: revenge. For this reason, she creates a new identity and acquaints herself as Yagmur Ozden (Beren Saat).

Derin returns as Yagmur to exact her vengeance. She sets her plan in motion, rents a home next to Arsoy family, and tries to navigate the upper society to destroy those who betrayed her father. She manages to take the attention of Emre (Mert Firat) who is the son of Arsoy. By this way, Yagmur gets a chance to visit Arsoy family whenever she wants.
In revenge (intikam) tv series, you will see the revenge of a beautiful and young girl Yagmur/Derin. Will anybody learn the truth about Yagmur's past? Will anybody recognise that Yagmur is actually Derin in disguise? Will Yagmur live the rest of her life peacefully? Will Yagmur manage to take her revenge from Arsoy family?
Revenge (Intikam) Tv Series Cast
Beren Saat as Yagmur Ozden / Derin
Nejat Isler as Ruzgar
Mert Firat as Emre Arsoy
Engin Hepileri as Hakan Eren
Zafer Algoz as Haldun Arsoy
Arzu Gamze Kilinc as Sahika Arsoy
Ezgi Eyuboglu as Cemre Arsoy
Can Sipahi as Baris Denizci
Yigit Ozsener as Ruzgar Denizci
Alican Yucesoy as Ali Sulen
Zeynep Ozder as Asli Saglam
Basak Dasman as Derin Celik
Beyza Sekerci as Dicle Aktug
Tilbe Saran as Hale Celik
External Links
Official Site: https://www.kanald.com.tr/intikam
Site 2: http://www.dproductions.com.tr/diziler/arsiv/intikam
English Wikipedia:
Imdb:
You Might Also Like
Ezel
Revenge (Intikam) Turkish Series Gallery