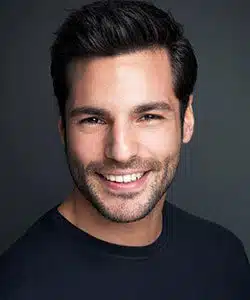 Profile
Name: Serkan Cayoglu
Birthdate: May 31, 1987
Birthplace: Germany
Height: 188 cm
Eye Color: Brown
Hair Color: Brown
Education: Erlangen University Economy (Erlangen Universitesi Ekonomi Bolumu)
Talent Agency: Id Iletisim
Spouse:
Biography: Serkan Cayoglu, a Turkish model and actor, was born in 31 May 1987 in Germany. He has a twin sibling. He started his career as a model and after then, he started to take professional acting training from Umit Cirak and Dolunay Soysert. Serkan Cayoglu made his debut with his small role as a boyfriend of Merve Bolugur in the season finale of popular Turkish drama North and South (Kuzey Guney). However, he became very famous with his role as Ayaz in popular romantic drama Cherry Season (Kiraz Mevsimi). Besides taking part in various Turkish dramas, He also took part in various music videos such as Hande Yener's Ya Ya Ya.
Serkan Cayoglu Tv Series / Movies
2012 – North and South (Kuzey Guney)
2014 – Olive Hill (Zeytin Tepesi) (as Burak Altayli)
2014 – 2015 Cherry Season (Kiraz Mevsimi) (as Ayaz Dincer)
2016 – Love of My Life (Hayatimin Aski) (as Demir Cerrahoglu)
2018 – Boru (as Kaya Ulgen) (Movie)
2018 – Wolf (Börü) (as Kaya Ulgen)
2018 – 2019 The Circle (Halka) (as Cihangir Tepeli)
2020 – New Life (Yeni Hayat) (as Adem Sahin)
2021 – Once Upon A Time in Cyprus (Bir Zamanlar Kibris) (as Ankarali / Bereli)
Awards
2016 – 1. YBU Medya Odulleri – En Iyi Erkek Dizi Oyuncusu
2015 – 6. KTU Medya Odulleri – En Iyi Cikis Yapan Oyuncu
2015 – Yakin Dogu Universitesi 5. Video Muzik Odulleri – Yilin En Iyi Cikis Yapan Oyuncusu
Social
Instagram: https://www.instagram.com/serkancayoglu/
Twitter: https://twitter.com/serkancayoglu
Facebook: https://www.facebook.com/serkancayogluofficial/
E-Mail:
Trivia
Body Type:
Skills:
Star Sign: Gemini
Blood Type:
Hobbies:
Weight: 83 kg
Serkan Cayoglu Gallery
Showreel (with English Subtitles)
Serkan Cayoglu Turkish Actor (Eng Sub)