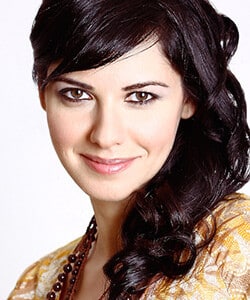 Profile
Name: Ahu Turkpence
Birthdate: January 2, 1977
Birthplace: Samsun, Turkey
Height: 170 cm
Eye Color: Hazel
Hair Color: Black
Education: Yildiz Technical University – Physics (Yildiz Teknik Universitesi Fizik Bolumu)
Talent Agency:
Spouse:
Biography: Ahu Turkpence was born in 2 January 1977 in Samsun. She was interested in theatre since her childhood but she did not do any specific attempt until she was 18 years old. With the suggestion of her friend, Ahu Turkpence applied for Mujdan Gezen Art Center and passed its exams successfully. After starting studying at Mujdat Gezen Art Center, she suspended her study at Yildiz Technical University. Ahu Turkpence became very popular with her role as Esma in popular Turkish series An Istanbul Fairytale (Bir Istanbul Masali). After her success with An Istanbul Fairytale, Ahu Turkpence continued to take part in various television projects.
Ahu Turkpence Tv Series / Movies
1996 – Gurbetciler
1998 – Beautiful Days (Guzel Gunler)
1999 – What Happened to Us (Bize Ne Oldu)
2000 – Number 7 (7 Numara) (as Seher Menekse)
2002 – Azad (as Dilan)
2004 – Where is Firuze? (Neredesin Firuze) (as Aysen) (Movie)
2004 – An Istanbul Fairytale (Bir Istanbul Masali) (as Esma Kozan Arhan)
2005 – Fame (Sohret) (as Gulsen Ozer)
2006 – Keloglan vs. The Black Prince (Keloglan Kara Prense Karsi) (as Bal Kiz) (Movie)
2007 – Hicran Sokagi (as Leyla) (Movie)
2007 – Farewell Rumelia (Elveda Rumeli) (as Bihter)
2008 – Listen from the Nay: Separations (Dinle Neyden) (Movie)
2008 – Karamel (as Zehra)
2009 – Walking Towards the Fire (Atese Yurumek) (as Derya)
2010 – Brought by the Sea (Denizden Gelen) (as Yaren) (Movie)
2011 – Losers' Club (Kaybedenler Kulubu) (as Zeynep) (Movie)
2013 – Nobody's Home (Koksuz) (as Feride) (Movie)
2013 – Conscience (Vicdan) (as Keriman)
2016 – Mountain 2 (Dag 2) (as Ceyda Balaban) (Movie)
2018 – Wolf (Börü) (as Asena Tumer)
2018 – Wolf (Börü) (as Asena Tumer) (Movie)
2019 – Behzat C. (Behzat C.: Bir Ankara Polisiyesi) (as Defne)
Awards
Afife Theatre Awards (Afife Tiyatro Odulleri) – The Most Successful Actress of the Year (After the End) – Yilin En Basarili Kadin Oyuncusu (Sondan Sonra)
X. Lions Theatre Awards (X. Lions Tiyatro Odulleri) – Best Actress (After the End) – En Iyi Kadin Oyuncu (Sondan Sonra)
Theatre Plays
Visne Bahcesi (Anton Cehov)
Iyi Ki Varsin (Onur Bayraktar)
Sondan Sonra (Dennis Kelly)
Social
Instagram: https://www.instagram.com/ahuturkpence/
Twitter:
Facebook:
E-Mail:
Trivia
Body Type:
Skills:
Zodiac Sign: Capricorn
Blood Type:
Hobbies:
Weight:
Ahu Turkpence Gallery