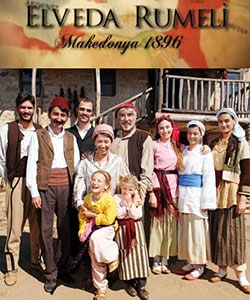 Details
Original Title: Elveda Rumeli
English Title: Farewell Rumelia
Also Known As:
Genre: Historical, Comedy
Episodes: 83
Seasons: 3
Broadcast Network: ATV
Broadcast Period: September 20, 2007 – October 19, 2009
Production Company: Adam Film
Director: Serdar Akar
Screen Writer: Ali Can Yaras, Ozge Efendioglu, Nuran Evren Sit
Filming Locations: Monastery, Macedonia
Synopsis
Rumeli which literally means 'The Land of the Romans' is the name given by Turks to the multi-cultural and multi-ethnic Balkans. The 'Roman' refers to in that is not the citizen of Roman Empire. It is the respectful Turkish tag given to Orthodox Christians.
Farewell Rumeli (Elveda Rumeli) is a comedy/drama series that nostalgically reminisces the period that would see the collapse of the Ottoman Empire through the ordinary lives of the members of a Turkish family in Macedonia.
Ramiz (Erdal Ozyagcilar), his wife Fatma (Sebnem Sonmez) and their five daughters live barely in a small village affiliated to Pursican county of Macedonia in 1896. Ramiz works as a milkman and wants nothing more than to find appropriate grooms for his precious daughters.

Ramiz wants to live the rest of his life quietly and at peace with the world. However, ensuing events shows us that his modest wish would never come true. His eldest daughter Hatice (Gulcin Santircioglu) is in love with the county's poor tailor Hasan (Tuna Orhan).
Younger daughter Zarife (Filiz Ahmet) meets teacher Aleks (Ertan Saban) and wants to get married although they come from socially different backgrounds.
Middle sister Vahide (Berrak Tuzunatac) comes across Doctor Mustafa (Tolgahan Sayisman) who survives from the police raid in Istanbul and makes his way to Macedonia to hide.
In farewell rumelia (elveda rumeli) tv series story, you will explore the life of an ordinary father, a mother and five daughters while discovering the last days of Ottoman Empire. Also, in this story you will explore tragic stories of migrants that are forced to leave their country and go. How will the life of Vahide change after the arrival of Mustafa? Will the migrants from Macedonia be adapted to their new life?
Farewell Rumelia (Elveda Rumeli) Tv Series Cast
Erdal Ozyagcilar as Ramiz
Sebnem Sonmez as Fatma
Berrak Tuzunatac as Vahide
Gulcin Santircioglu as Hatice
Ertan Saban as Alexander
Tolgahan Sayisman as Mustafa
Erman Saban as Dilaver
Filiz Ahmet as Zarife
Tuna Orhan as Hasan
Salih Bademci as Muzaffer
Gokhan Mete as Cabbar
Mahir Ipek as Ahmet
Elyesa Kaso as Cezmi
Suzan Akbelge as Meryem
External Links
Official Site: https://www.atv.com.tr/webtv/elveda-rumeli/bolum
English Wikipedia:
Imdb:
You Might Also Like
The Foreign Groom (Yabanci Damat)
Bullet Wound (Kursun Yarasi)