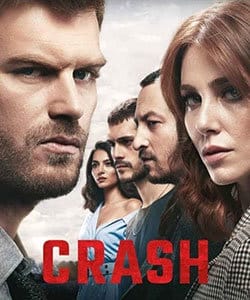 Details
Original Title:
Carpisma
English Title:
Crash
Also Known As:
Collision
Genre:
Drama
,
Action
,
Romance
Episodes:
6+
Broadcast Network:
Show Tv
Broadcast Period:
November 22, 2018
Production Company:
Ay Yapim
Director:
Uluc Bayraktar
Screen Writer:
Ali Aydin
Synopsis
Four different lives intersect after a serious car accident. The life of Kadir, Zeynep, Cemre and Kerem would never be same after getting into this car accident.
Kadir (Kivanc Tatlitug) is a successful chief superintendent at Istanbul organized crime bureau. He has a happy life with his wife Asli (Sevtap Ozaltun) and his lovely daughter. Kadir is a workaholic and fearless and does not refrain from putting himself into danger. He loves his family to death and tries to do his best to become a good father and a good husband.
Kadir has nothing to have in this life other than his beloved wife and daughter. He has been raised in an orphanage and met his wife there. Apart from his family, Kadir's only passion is his job and Sariyer soccer team. He goes to each and every soccer match and roots for his team. One day, he also brings his family to the soccer match but something unexpected happens. Due to terrorsit attack outside of the stadium, Kadir's wife and daughter dies and Kadir's lovely life turns upside down.

Kadir starts to blame himself for this accident and thinks that his family would be alive if he did not force them to come to soccer match. He becomes devastated and hopeless and feels that it would be better if he also ends his life. A car accident opens a new door for his life and brings him back to life instead of killing him. Kadir meets his childhood friend from the orphanage years later.
Zeynep (Elcin Sangu) is a successful bank manager who is the childhood friend of Kadir. She has been raised in an orphanage after his police father died on duty when she was a little girl. She becomes fearful of loneliness after growing up in an orphanage.
Zeynep has a wealthy life but has a bad marriage. She discovers that her husband Galip (Ismail Demirci) has a love affair again. This time, she is determined to get divorced and start a new life with her little daughter. However, she soon realizes that her husband has a huge amount of debt due to gambling and he is involved in some smuggling activities.
Even though Zeynep wants to get divorced, she finds herself in a difficult position. Her husband Galip runs away abroad with all the money he has stolen from the smugglers. After then, mafia leader Veli (Onur Saylak) wants Zeynep to pay back his husband's debt and kidnaps Zeynep's daughter. If Zeynep steals money from the bank where she works and pay back his husband's debt, she would be able to see her daughter again.
Zeynep's life turns upside down. She cannot inform the police about all these things either. She has nothing to do but to steal the money from her bank in order to save her daughter. Hence, Zeynep does whatever Veli wants and steals all the money from the bank. On her way to go to the place where she is supposed to meet her daughter, Zeynep is stopped by police officers but manages to run away. However, she gets involved in a car accident and meets her childhood friend Kadir when she desperately needs help.
On the other hand, Cemre (Melisa Asli Pamuk) is a successful lawyer who is engaged with Demir (Hakan Kurtas). Cemre seems to have a perfect life: good job, wealthy life, caring father, and romantic fiancée. Her perfect life is in fact built upon lies. Her fiancée Demir has actually a love affair with Cemre's step mother and uses Cemre to reach his goals. Unaware of these things, Cemre thinks that she has a perfect fiancée who is only dreaming of geting married to her. However, her perfect life also turns upside down. When Cemre comes to her house, she gets stabbed by the burglar. On her way to the hospital, she gets involved in a car accident and her solid quiet life changes dramatically after the collision.
Lastly, Kerem (Alperen Duymaz) is a young man who spends his 5 years in prison due to harming his father. He just gets out of prison with conditional release. He has nothing in life but a lovely girlfriend and Sariyer soccer team. Just like Kadir, Kerem also goes to each and every soccer match and roots for his team. He knows Kadir from these soccer matches and considers Kadir as his elder brother.
After getting out of prison, Kerem is determined not to get involved in trouble. For this reason, he looks for a decent job. No matter how hard he tries, he cannot find a job. Thus, he has to accept his friend's offer and decides to commit a burglary. Even though it seems an easy target, something unexpected happens and Kerem accidentally stabs the owner of the house: Cemre. Upon the shock of this tragedy, Kerem and his friend runs away but Kerem cannot forget the eyes of the girl whom he has stabbed. He thinks that the girl would die from the loss of blood and for this reason; he decides to turn back and save the girl. On his way, Kerem is also involved in a collision that will change his life.
In Crash (Carpisma) tv series story, you will watch how one car accident brings the lives of four different people together. Will Kadir start to leave in peace after the death of his wife and daughter? Will Zeynep save her daughter? Will Cemre find out the infidelity of her fiancee? Will Kerem manage not to get into the prison?
Crash Tv Series (Carpisma) Cast
Kivanc Tatlitug as Kadir
Elcin Sangu as Zeynep
Onur Saylak as Veli
Melisa Asli Pamuk as Cemre
Alperen Duymaz as Kerem
Mustafa Ugurlu as Selim
Erkan Can as Haydar
Rojda Demirer as Belma
Merve Cagiran as Meral
Hakan Kurtas as Demir
Ismail Demirci as Galip
Sevtap Ozaltun as Asli Adali
External Links
Official Site: https://www.showtv.com.tr/dizi/tanitim/carpisma/2374
English Wikipedia:
Imdb:
Social
Instagram: https://www.instagram.com/tvdizicarpisma/
Twitter: https://twitter.com/tvdizicarpisma
Facebook:
You Might Also Like
Black Money Love (Kara Para Ask)
Crash Tv Series Gallery
Crash Tv Series Trailer (with English Subtitles)
Kıvanç Tatlıtuğ's New Turkish Drama Collision (Crash - Carpisma) Trailer (Eng Sub)
Trailer 2
Collision (Crash - Çarpışma) Turkish Drama Last Trailer