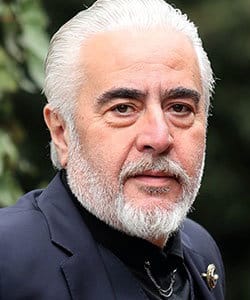 Profile
Name: Ugur Yucel
Birthdate: May 26, 1957
Birthplace: Istanbul, Turkey
Height: 169 cm
Eye Color: Dark Brown
Hair Color: Grizzle
Education: Istanbul Municipality Conservatory – Theatre (Istanbul Belediye Konservatuvari Tiyatro Bolumu)
Talent Agency:
Spouse: Derya Alabora (m. 1983-present)
Children: Can Yucel
Biography: Ugur Yucel was born in Istanbul. Orginally, he is from Van. Between 1975 and 1984, he took part in various theatre plays at Kenter Theatre, Tef Kabare Theatre, Dormen Theatre, and San Muzikholu. He also made tv shows with Sezen Aksu and Mujde Ar.

Ugur Yucel Tv Series / Movies
1984 – It Was a Fall Day in the Park (Parkta Bir Sonbahar Gunuydu) (as Ergin)
1985 – I Fall in Love (Asik Oldum) (as Ercan) (Movie)
1986 – Billionaire (Milyarder) (as Halis Dombili) (Movie)
1986 – My Aunt (Teyzem) (as Basri) (Movie)
1987 – Mr. Muhsin (Muhsin Bey) (as Ali Nazik) (Movie)
1987 – Band Without Greeting (Selamsiz Bandosu) (as Musa) (Movie)
1988 – Arabesk (as Ekrem) (Movie)
1993 – Super Dad (Super Baba)
1994 – Saint Ahmet (Aziz Ahmet) (as Selami)
1996 – The Bandit (Eskiya) (as Cumali) (Movie)
2000 – Balalaika (Balalayka) (as Necati) (Movie)
2001 – Those Running At Dark (Karanlikta Kosanlar) (as Nevzat)
2003 – 2005 Twilight (Alacakaranlik) (as Tahir Kemal Bozoglu)
2005 – 2007 The Thief and the Cop (Hirsiz Polis) (as Aksak / Arsen)
2006 – You Are the Woman of My Life (Hayatimin Kadinisin) (as Tophaneli Tayfur) (Movie)
2008 – 2010 Dear Family (Canim Ailem) (as Samim Altin)
2008 – New Yok, I Love You (as Painter) (Movie)
2009 – Soul Kitchen (Aska Ruhunu Kat) (as "Bonebreaker" Kemal – Knochenbrecher) (Movie)
2009 – Dragon Trap (Ejder Kapani) (as Cerkez Abbas) (Movie)
2013 – 2014 Between Us (Aramizda Kalsin) (as Bahattin Celepoglu)
2013 – My World (Benim Dunyam) (as Mahir) (Movie)
2013 – Yahsi Cin (Movie)
2015 – You Have Burnt Me (Yaktin Beni) (as Macit) (Movie)
2016 – Family (Familya) (as Yasar Beyoglu)
2016 – Insider (Icerde) (as Kudret Sonmez)
2018 – Breathless (Nefes Nefese) (as Ayaz Kiran – Atmaca)
2018 – Muhtesem Ikili (as Sadri)
2019 – Yuzlesme (as Fikret Kalenderoglu)
2019 – Cinayet Susu (as Baskomiser Emin) (Movie)
2020 – 2021 The Red Room (Kirmizi Oda) (as Vahit Karahanoglu)
2021 – Fatma (as Writer)
2021 – Bandits (Eskiya Dunyaya Hukumdar Olmaz) (as Aga Dayi)
2022 – Wild Abandon (Uysallar) (as Olcay Uysal)
2022 – Hakim (as Cevdet)
Awards
1987 – 24. Antalya Film Festival (24. Antalya Film Senligi) – Best Actor in Supporting Role (Mr. Muhsin)

– En Iyi Yardimci Erkek Oyuncu (Muhsin Bey)

2004 – 41. Antalya Film Festival (41. Antalya Film Senligi) – Best Screenplay (Toss-Up)

– En Iyi Senaryo (Yazi Tura)

2004 – 41. Antalya Film Festival (41. Antalya Film Senligi) – Best Movie (Toss-Up)

– En Iyi Film (Yazi Tura)

2004 – 41. Antalya Film Festival (41. Antalya Film Senligi) – Best Director (Toss-Up)

– En Iyi Yonetmen (Yazi Tura)

2005 – 16. Ankara Film Festival (16. Ankara Film Festivali) – Mahmut Tali Ongoren Special Prize (Toss-Up)

– Mahmut Tali Ongoren Ozel Odulu (Yazi Tura)

2005 – 12. International Golden Cocoon Film Festival (12. Uluslararasi Altin Koza Film Festivali) – Best Director (Toss-Up)

– En Iyi Yonetmen (Yazi Tura)

2005 – 24. Istanbul Film Festival (24. Istanbul Film Festivali) – Public Jury Award (Toss-Up)

– Halk Jurisi Odulu (Yazi Tura)

2005 – 24. Istanbul Film Festival (24. Istanbul Film Festivali) – Best Director (Toss-Up)

– En Iyi Yonetmen (Yazi Tura)

2005 – 54. Mannheim International Film Festiva (54. Mannheim Uluslararasi Fim Festivali) – International Cinema Critic Awards (Toss-Up)

– Uluslararasi Sinema Elestirmenleri Odulu (Yazi Tura)

2005 – 10. Nurnberg Turkey/Germany Film Festival (10.Nurnberg Turkiye/Almanya Film Festivali) – Best Movie (Toss-Up)

– En Iyi Film (Yazi Tura)

2013 – 20. Palic European Film Festival (20. Palic Avrupa Film Festivali) – Encounters Section Best Movie (Cold)

– Encounters Bolumu En Iyi Film (Soguk)
Director
1999 – Second Spring (Ikinci Bahar) (first 8 episodes)
2001 – Those Running At Dark (Karanlikta Kosanlar)
2004 – Toss-Up (Yazi Tura)
2006 – You Are the Woman of My Life (Hayatimin Kadinisin)
2009 – Dragon Trap (Ejder Kapani) (as Cerkez Abbas) (Movie)
2013 – My World (Benim Dunyam) (as Mahir)
2013 – Cold (Soguk)
Screenwriter
1994 – Saint Ahmet (Aziz Ahmet)
2001 – Those Running At Dark (Karanlikta Kosanlar)
2004 – Toss-Up (Yazi Tura)
2006 – You Are the Woman of My Life (Hayatimin Kadinisin)
2013 – Cold
Music Composer
1998 – On Board (Gemide)
1999 – A Madonna in Laleli (Laleli'de Bir Azize)
Social
Instagram: Official Instagram Account
Twitter:
Facebook:
Ugur Yucel Gallery