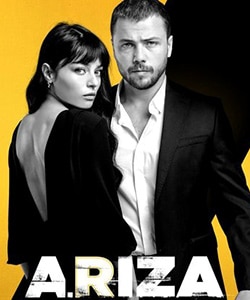 Details
Original Title: Ariza
English Title: Trouble (literal title)
Also Known As:
Genre: Romance, Action
Episodes: 29
Broadcast Network: Show Tv
Broadcast Period: 13 September 2020 – 11 April 2021
Production Company: O3 Media
Director: Recai Karagoz
Screen Writer: Ozan Aksungur
Filming Locations: Istanbul, Turkey
Synopsis
Ariza which means "trouble", "disturbance" and "malfunction" in Turkish corresponds to the name of the lead character Ali Riza (A.Riza = the first letter of "Ali" and the middle name of "Riza")
Ali Riza (Tolga Saritas) is a young taxi driver who has a quiet ordinary life together with his mother, brother and two sisters. After his father's death, Ali Riza becomes the head of the family and starts to work hard to support his family.
Ali Riza's life turns upside down when he comes across to a beautiful young doctor Halide (Ayca Aysin Turan).

Halide comes from a wealthy family but she works as a doctor in a small town located in the eastern part of Turkey. After her mother and two brothers are killed by an armed assault, the happy life of Halide and her father Hasmet (Ahmet Mumtaz Taylan) comes to an end.
Halide survives from the accident but she cannot forget this tragedy later on. Her father Hasmet, on the other hand, who is a powerful mafia leader in Istanbul gives up everything and delegates mafia business to an ambitious man Fuat (Levent Can).
Halide who is living in a small town returns Istanbul for her father's birthday. When she attends to the birthday party, she sees her childhood friend Burak (Olgun Toker) who is the son of mafia leader Fuat.
Burak has been in love with Halide for a long time and he dreams to get married to her even though his love is one-sided. When Burak makes a marriage proposal, Halide refuses him and wants to leave the scene immediately.
Halide gets into Ali Riza's taxi and wants to leave everything behind. However, Burak tries to restrain her and draws her out of the car forcibly.
Ali Riza who is a fearless guy has nothing to do but to intervene. He does not let his customer get injured and fights off the attacker Burak. Even though he does not know her, he just does his best to protect his customer.
Burak who has everything in the life gets the first slap of his life from Ali Riza. He gets embarrassed to the death and cannot tolerate to be beaten up in front of Halide. He swears to find this taxi driver and takes his revenge.
Burak learns the identity and the address of taxi driver and comes to Ali Riza's neighborhood in order to give him a lesson. He takes his change for vengeance at the wedding of Ali Riza's sister. While he is trying to threaten neighborhood residents, he accidentally shoots the bride and kills her.
However, Burak gets rid of this situation without getting any punishment. He and his father use their power at the court, they find false witnesses and bring another person for taking all the blame.
Eventually, Burak is found innocent at the court and becomes a free man even though he has killed a person.
Ali Riza, on the other hand, loses his trust to the law and decides to punish Burak by his own way. He leaves his quiet life behind and enters into a dangerous world of mafia gangs. While he is seeking for his revenge, he gets the help and accompaniment of Halide.
Halide knows that Ali Riza is involved in this fight in order to protect herself. For this reason, she wants to do her best to protect him in return.
Ariza tv series story is about a young taxi driver who leaves his quiet life behind and enters into a dangerous world of mafia gangs in order to take his revenge. Will Ali Riza become happy when he tries to take his revenge? Will Ali Riza manage to survive in a dangerous world of mafia gangs? Will Halide manage to get rid of Burak's love and live her life in peace? Will Burak get punished for killing someone?
Ariza Tv Series Cast
External Links
Official Site: https://www.showtv.com.tr/dizi/tanitim/ariza/2745
English Wikipedia:
Imdb:
You Might Also Like
The Pit (Cukur)
Ramo
Ariza Turkish Drama Relationship Chart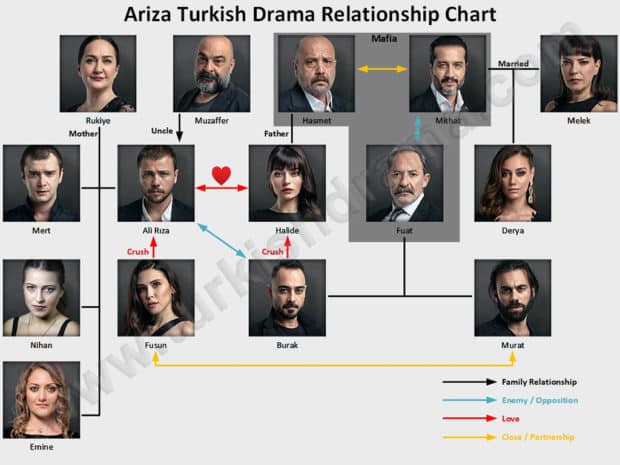 Ariza Tv Series Trailer (with English Subtitle)