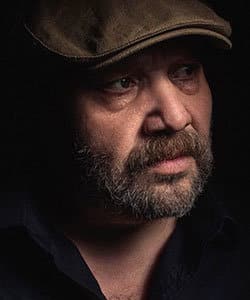 Profile
Name: Ahmet Mumtaz Taylan
Birthdate: September 12, 1965
Birthplace: Ankara, Turkey
Height: 1,8 m
Eye Color: Brown
Hair Color: Black
Education: Hacettepe University Ankara State Conservatory – Theatre (Hacettepe Universitesi Ankara Devlet Konservatuvari Tiyatro Bolumu) (1989)
Talent Agency:
Spouse: Ayca Inci (m. 2007-2012)
Biography: Ahmet Mumtaz Taylan was born in Ankara in September 12, 1965. After graduation, he worked at Diyarbakir State Theatre during 1989-1993. He worked as art director and deputy director at State Theatres. Since 1996, he has taken part in various movies and tv series. He is the founder of Association of State Theatre Players (Devlet Tiyatrolari Sanatcilari Dernegi) (DETIS). Ahmet Mumtaz Taylan becam so popular with his role Iskender in popular Turkish drama Leyla and Mecnun (Leyla ile Mecnun).
Ahmet Mumtaz Taylan Tv Series / Movies
1985 – Nightingale in the Night Club (Gazino Bulbulu) (the movie)
1996 – Istanbul Beneath My Wings (Istanbul Kanatlarimin Altinda) (the movie)
2000 – Story of a Snake (Yilan Hikayesi)
2002 – Father (Baba) (as Hasmet)
2002 – Zeibek Fire (Zeybek Atesi) (as Refik)
2002 – Signs at the Beach (Kumsaldaki Izler) (as Benzinci)
2002 – Kite (Caylak) (as Fisek Rize)
2003 – Wound of Bullet (Kursun Yarasi) (as Selamoglu)
2003 – Under Construction (Insaat) (as Nizamettin) (the movie)
2004 – Elflock (Arapsaci)
2004 – Sahra
2004 – Lost Lovers (Kayip Asiklar) (as Semih) (the movie)
2004 – Robbery Alla Turca (Hirsiz Var) (as Avi Kohen) (the movie)
2004 – Toss-Up (Yazi Tura) (as Maki Amca) (the movie)
2005 – Womaniser (Capkin) (as Muslum)
2005 – One Day in Europe (Avrupa'da Bir Gunun) (as Highranking Officer) (the movie)
2005 – Puzzled (Saskin) (the movie)
2005 – Whatever You Wish (Sen Ne Dilersen) (as Zulfikar) (the movie)
2005 – Shattered Soul (Beyza'nin Kadinlari) (the movie)
2005 – School (Okul) (the movie)
2006 – Europen Side (Avrupa Yakasi) (as guest actor)
2006 – Soldiers (Kinali Kuzular)
2006 – What's Next! (Daha Neler)
2006 – Bride Ezo (Ezo Gelin) (as Balli Agha)
2006 – Home Coming (Eve Donus) (the movie)
2006 – Waiting For Heaven (Cenneti Beklerken) (as Vezir) (the movie)
2006 – Yes Sir: Checkmate (Emre Komutanim: Sah Mat) (the movie)
2006 – Istanbul Tales (Anlat Istanbul) (as Mahir) (the movie)
2007 – Tumbledown (Basimin Belasi) (as Lahmacuncu) (the movie)
2007 – Hayat Apartment (Hayat Apartmani)
2007 – Bayrampasa: I Will Not Stay Long (Bayrampasa: Ben Fazla Kalmayacagim)(as Police Officer) (the movie)
2007 – Whilst on My Way (Gecerken Ugradim) (the movie)
2007 – Made in Europe (the movie)
2007 – Nazim Hikmet Blue Eyed Giant (Mavi Gozlu Dev) (the movie)
2008 – Fall (Sonbahar) (as Kemal)
2008 – Follow Kadri, Not Your Heart (Kadri'nin Goturdugu Yere Git) (as Gunes) (the movie)
2008 – Zeynep's Eight Days (Zeynep'in Sekiz Gunu) (the movie)
2009 – Eternal (Sonsuz) (as Barbaros) (the movie)
2009 – The Shadowless (Golgesizler) (the movie)
2010 – Walkin Towards Fire (Atese Yurumek) (as Ali Ihsan)
2010 – Eternal Return (Ebedi Dönüş) (the movie)
2010 – 2021 Leyla and Mecnun (Leyla ile Mecnun) (as Iskender)
2010 – Tales from Kars (Kars Oykuleri) (the movie)
2010 – Name It (Adini Sen Koy) (as Harun) (the movie)
2010 – Captain Feza (Kaptan Feza) (as Selami) (the movie)
2010 – Dragon Trap (Ejder Kapani) (as Mustesar) (the movie)
2010 – Toll Booth (Gişe Memuru) (as Operations Chief) (the movie)
2010 – Mi Hatice (as Sacit) (the short movie)
2011 – Behzat C. (guest actor)
2011 – Once Upon a Time in Anatolia (Bir Zamanlar Anadolu'da) (as Driver Arab Ali) (the movie)
2011 – Hidden Lives (Sakli Hayatlar) (the movie)
2011 – Last Stop: Salvation (Kurtulus Son Durak) (the movie)
2012 – Rhino Season (as Driver) (the movie)
2012 – Fallen Angel (Kotu Yol)
2012 – Thou Gild'st the Even (Sen Aydinlatirsin Geceyi) (as Yakup Cicek) (the movie)
2013 – I Missed You Too (Ben de Ozledim) (as Ahmet)
2013 – The Dream of a Butterfly (Kelebegin Ruyasi) (as Zikri Ozsoy) (the movie)
2014 – Murder (Cinayet)
2014 – Ciragan Raid (Ciragan Baskini)
2016 – The Bank of Broken Hearts (Kirik Kalpler Bankasi) (as Rustem Tor) (the movie)
2016 – Life Song (Hayat Sarkisi) (as Bayram)
2017 – More (Daha) (as Ahad) (Movie)
2017 – Visible Man (Gorunen Adam)
2017 – Life of Secrets (Hayat Sirlari) (as Mustafa)
2018 – Guilty of Humanity (Insanlik Sucu) (as Sami Gokdemir)
2018 – Deadly World (Olumlu Dunya) (as Gazanfer) (Movie)
2019 – The Circle (Halka) (as Cemal Sandikci)
2019 – Organize Isler Sazan Sarmali (as Kerami) (Movie)
2020 – Alef (as Settar)
2020 – 2021 Ariza (as Hasmet Gurkan)
2021 – Olum Zamani (as Cevat)
2021 – Kin (as Cevat) (Movie)
2021 – Aziz (as Galip Payidar)
Awards
2008 –

15. International Golden Cocoon Film Festival (15. Uluslararasi Altin Koza Film Festivali) – Best Actor (Made in Europe)

– En Iyi Erkek Oyuncu (Made in Europe)
2011 –

8. Kazan International Muslim Film Festival (8. Uluslararasi Kazan Musluman Film Festivali) – Best Actor (Hidden Lives)

– En Iyi Erkek Oyuncu (Sakli Hayatlar)
2018 –

23. Sadri Alisik Awards (23. Sadri Alisik Odulleri) – Best Actor (drama) (More)

– En Iyi Erkek Oyuncu (dram) (Daha)
Director of Theatre Plays
1989 – Hayvanat Bahcesi
1990 – Ada
1992 – Cengizhan'in Bisikleti
1998 – Olagan Cinayetler
2001 – Misafir
2001 – Olagan Mucizeler
2003 – Pabuccu Ahmed'in Garip Maceralari
2005 – Zengin Mutfagi
2007 – Buzlar Cozulmeden
2008 – Caligula
2012 – Kesanli Ali Destani
Theatre Plays
1988 – Pollyanna
1989 – Yunus Emre
1990 – Ada
1991 – Misafir
1991 – Saripinar 1914
1992 – Mustafa
1992 – Fareler ve Insanlar
1992 – Cengizhan'in Bisikleti
1993 – Bernarda Albanin Evi
1995 – Memuroglu
1995 – Azizname'95
2000 – Essek Arilari
Social
Instagram: https://www.instagram.com/ahmetmumtaztaylanofficial/
Twitter: https://twitter.com/taylan1789
Facebook:
E-Mail:
Ahmet Mumtaz Taylan Gallery