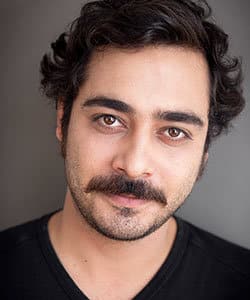 Profile
Name: Olgun Toker
Birthdate: March 12, 1986
Birthplace: Mersin, Turkey
Height: 180 cm
Eye Color: Brown
Hair Color: Black
Education: Mujdat Gezen Conservatory – Theatre (Mujdat Gezen Konservatuvari Tiyatro Bolumu)
Talent Agency: Icon Talent Menajerlik
Spouse:
Biography: Olgun Toker was born in Mersin in March 12, 1986. While he was going to high school, he started to draw caricature for a regional newspaper. While he was studying at Mujdat Gezen Conservatory, he started his acting career. Olgun Toker took part in various movies and tv series but he became very popular with his role Mahir in popular Turkish drama Life Song (Hayat Sarkisi).

Olgun Toker Tv Series / Movies
2010 – Taxi Station (Akasya Duragi)
2011 – Hidden Lives (Sakli Hayatlar) (as Can) (Movie)
2010 – Ask ve Devrim (as Mehmet Unal) (Movie)
2012 – The Path of the Faithful (Bir Ses Boler Geceyi) (as Zulfu) (Movie)
2012 – Last Stop: Salvation (Kurtulus Son Durak) (Movie)
2012 – Government Woman (Hukumet Kadin) (as Adnan) (Movie)
2012 – Son Yaz: Balkanlar 1912 (as Taner)
2012 – 2014 Karadayi (as Melih Sadoglu)
2012 – The End (Son) (as Taner)
2013 – Dugun Dernek (Movie)
2014 – Government Woman 2 (Hukumet Kadin 2) (as Adnan) (Movie)
2015 – Matter of Respect (Seref Meselesi) (as Seyhan Demir)
2014 – The Outsiders (Benim Adim Gultepe) (as Resat)
2015 – Kir (as Kopuk) (Short Movie)
2015 – Pretty Little Liars (Tatli Kucuk Yalancilar) (as Guven)
2016 – 2017 Life Song (Hayat Sarkisi) (as Mahir Duru)
2016 – Locksmith's Debt (Kucuk Esnaf) (as Oktay) (Movie)
2017 – My Father is an Angel (Benim Babam Bir Melek) (as Umit) (Movie)
2017 – Cember (as Cumali Apaydin)
2017 – 2018 Life of Secrets (Hayat Sirlari) (as Kemal Kuzgun)
2017 – Donusum (as Mert / Yilmaz) (Short Movie)
2018 – The Deep (Dip) (as Ismail)
2018 – My Travel Buddy 2 (Yol Arkadasim 2) (as Selim) (Movie)
2019 – A Family Story (Bir Aile Hikayesi) (as Mahur Gunes)
2020 – 2021 Ariza (as Burak Ersoylu)
2021 – Fatma (as Sidar)
2021 – Last Summer (Son Yaz) (as Gokhan Sen)
2022 – Merve Kult
2022 – Annenin Sirridir Cocuk (as Cinar Yilmaz)
2022 – Mezarlik (as Serdar Ata)
2022 – Forever Together (Guzel Gunler) (as Atakan)
Theatre Plays
2017 – Ebedi Baris (as Kopek)
2020 – Izmir'in Kizlari (as Poyraz)
Social
Instagram: @olguntoker
Twitter: @olguntoker
Facebook:
E-Mail:
Olgun Toker Gallery
Olgun Toker – Actor