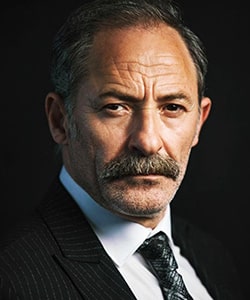 Profile
Name: Levent Can
Birthdate: August 23, 1971
Birthplace: Istanbul, Turkey
Height: cm
Eye Color: Brown
Hair Color: Black
Education: Ali Poyrazoglu Theatre – Acting Lessons (Ali Poyrazoglu Tiyatrosu Oyunculuk Egitimi)
Talent Agency: Socialthings Management
Spouse:
Biography: Levent Can was born in 23 August 1971 in Istanbul. He took acting lessons from Ali Poyrazoglu Theatre. While taking part in various theatre plays, Levent Can also took part in various tv series and movies. Levent Can became popular with his role as Fehmi Kuzuzade in popular Turkish series Valley of Wolves: Ambush (Kurtlar Vadisi Pusu).
Levent Can Tv Series / Movies
1992 – Denize Hancer Dustu (Movie)
2003 – Toss-up (Yazi Tura) (as Hamit) (Movie)
2004 – Ah Be Istanbul (as Esref)
2005 – Yes Sir (Emret Komutanim) (as Albay Burhan Sezer)
2005 – Gen (Movie)
2008 – Cars of the Revolution (Devrim Arabalari) (as Erhan) (Movie)
2009 – 2010 Daydreaming (Kavak Yelleri) (as Semih)
2009 – Brought by the Sea (Denizden Gelen) (as Berber Hayri) (Movie)
2009 – Ask for Your Heart (Yuregine Sor) (as Ishak) (Movie)
2010 – 2011 Ezel (as Kaya)
2010 – Being Italian with Signora Enrica (Sinyora Enrica ile Italyan Olmak) (as Francesco) (Movie)
2010 – Snakes and Doves (Yilanlar ve Guvercinler) (as Teacher Halim) (Movie)
2012 – Desperate Housewives (Umutsuz Ev Kadinlari) (as Altay)
2012 – Chaos Spider Web (Kaos Orumcek Agi) (as Okan Tunc) (Movie)
2012 – The End (Son) (as Cevdet)
2013 – Without Me (Bensiz) (as Halil) (Movie)
2013 – Your Story (Senin Hikayen) (as Kemal) (Movie)
2014 – 2016 Valley of Wolves: Ambush (Kurtlar Vadisi Pusu) (as Fehmi Kuzuzade)
2014 – Antidote (Panzehir) (as Nazik Hayri) (Movie)
2017 – Glass Mask (Icimdeki Firtina) (as Selim Kara)
2017 – Insider (Icerde) (as Haluk)
2017 – 2018 Wounded Love (Vatanim Sensin) (as General Filipos)
2020 – Love Loves Coincidences 2 (Ask Tesadufleri Sever 2) (as Yorgo) (Movie)
2020 – Ariza (as Fuat Ersoylu)
Awards
Social
Instagram: https://www.instagram.com/levent_can/
Twitter:
Facebook:
E-Mail:
Trivia
Body Type:
Skills:
Star Sign:
Blood Type:
Hobbies:
Weight:
Levent Can Gallery