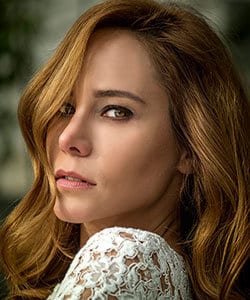 Profile
Name: Burcin Terzioglu
Birthdate: March 9, 1980
Birthplace: Istanbul, Turkey
Height: 160 cm
Eye Color: Green
Hair Color: Yellow
Education: Mujdat Gezen Art Center – Stage Diction Training (Mujdat Gezen Sanat Merkezi – Ozel Sahne Diksiyon Egitimi)
Talent Agency: Yasemin Ozbudun Talent Management
Spouse: Murat Yildirim (m. 2008–2014)
Biography: Burcin Terzioglu was born in 9 March 1980 in Istanbul. While she was 5 years old, she took part in Turkish movies Patron Duymasin and The Naked Citizen (Ciplak Vatandas). Throughout her childhood, Burcin Terzioglu took part in various tv projects. While she was acting in Turkish drama Storm (Firtina), she met Murat Yildirim and got married to him. The couple got divorced in 2014 after 7-year long marriage.
Burcin Terzioglu Tv Series / Movies
1985 – Don't Let Boss Know (Patron Duymasin) (Movie)
1985 – The Naked Citizen (Ciplak Vatandas) (as Ibrahim'in Kizi) (Movie)
1986 – Hasretinle Yasanmiyor (as Burcin) (Movie)
1986 – Gambler (Kumarbaz) (Movie)
1986 – Perihan Abla
1986 – Two Billion Lira Ticket (Iki Milyarlik Bilet) (as Gul) (Movie)
1986 – I Fell Down (Yikilmisim Ben) (Movie)
1987 – Reborn (Yeniden Dogmak)
1987 – Violets are Blue (Menekseler Mavidir) (Movie)
1987 – My Dreams, My Love and You (Hayallerim, Askim Ve Sen) (as Rukiye) (Movie)
1987 – Grief of Losing a Child (Evlat Acisi) (as Burcin) (Movie)
1987 – Baba Yuregi (as Asli) (Movie)
1988 – Izdirap Cocuklari (Movie)
1989 – Fazilet (Movie)
1989 – Doktorlar (as Billur)
1990 – Flowers Want to Bloom (Cicekler Acmak Ister)
1991 – Menekse Koyu (as Ayse) (Movie)
1992 – Mahallenin Muhtarlari (as Simge )
1992 – Kavak Family (Kavak Ailesi) (as Findik Yegen)
1994 – We Both Loved (Ikimiz De Sevmistik) (Movie)
1994 – Iki Kucuk Yaramaz (Movie)
1995 – Taxi Station (Cicek Taksi) (as Sinem)
1996 – My Daughter and Me (Kizim ve Ben)
1996 – Kaldirim Cicegi
1997 – Yasemince
1997 – Wild Flowers (Kir Cicekleri) (as Suheyla) (Movie)
1998 – Soaked (Sirilsiklam)
1999 – 2001 Story of a Snake (Yilan Hikayesi)
2000 – Sorry Leila (Uzgunum Leyla)
2000 – Game Over (Oyun Bitti) (Movie)
2000 – Miril Miril Munevver
2000 – My Mom and Me (Annem ve Ben) (Movie)
2001 – Game (Oyun) (Movie)
2001 – Autumn Roses (Guz Gulleri) (as Nuray)
2002 – Kinali Kar (as Pinar Beyoglu)
2002 – Mommy, Marry My Daddy (Anne Babamla Evlensene)
2003 – Hard Hearted (Tastan Kalp) (as Ozlem)(Movie)
2004 – Angel Island (Melekler Adasi) (as Ceren)
2004 – When a Woman Wants (Kadin Isterse) (as Demet)
2004 – Aliye (as Umit)
2006 – The Storm (Firtina) (as Zeynep)
2007 – Outside of the Circle (Cemberin Disinda) (as Lacin Surmen)
2009 – 2010 Ezel (as Azad Karaeski)
2009 – Ey Ask Nerdesin (as Zelis)
2013 – Mercy (Merhamet) (as Deniz)
2013 – My Aunt is Here (Halam Geldi) (Mom) (Movie)
2014 – 2016 For My Son (Poyraz Karayel) (as Aysegul Umman)
2018 – The Protector Hakan (Hakan: Muhafiz) (as Ruya)
2019 – Bullet (Kursun) (as Leyla Devrim)
2019 – Guzelligin Portresi (as Nisan) (Movie)
2020 – The Agency (Menajerimi Ara) (as Burcin)
2021 – Hukumsuz (as Esma)
2021 – Liar (Yalanci) (as Deniz Sungur)
Awards
2017 – Galatasaray Univesity "Bestest Awards" – Best Actress in a Movie / TV Show
2017 – Yeditepe University 5th Wish Awards – Best Actress (Poyraz Karayel)
2017 – 24th ITU EMOS Success Awards – Best Actress in a TV Show (Poyraz Karayel)
2017 – 15th YTU Stars of the Year Awards – Best Actress in a TV Show (Poyraz Karayel)
2016 – IMK Social Media Awards – Best Actress (Poyraz Karayel)
2016 – 43rd Golden Butterfly Awards – Best Actress (Poyraz Karayel)
2016 – MGD 22nd Golden Lens Awards – Best Drama Actress (Poyraz Karayel)
2016 – Gazi University 9th Academy Career Days Awards –Best Actress of the Year
2016 – Sabanci University Media Club 3rd Navy Awards – Actress of the Year
2016 – 11th ITU Makinistanbul Media, Arts, and Sports Awards – Best Actress in a TV Show
2016 – Elele Avon Women Awards – Best Actress (Poyraz Karayel)
2016 – Istanbul Technical University Awards – Best Actress in a TV Show (Poyraz Karayel)
2016 – Sabanci University Awards – Actress of the Year (Poyraz Karayel)
2016 – 7th KTU Media Awards – Actress of the Year (Poyraz Karayel)
2016 – Turkish Med Students Association – Actress of the Year (Poyraz Karayel)
2015 – Halic University Awards – Actress of the Year (Poyraz Karayel)
Social
Instagram: https://www.instagram.com/burcinterzioglu/
Twitter: https://twitter.com/terziogluburcin
Facebook:
E-Mail:
Trivia
Body Type:
Skills:
Star Sign: Pisces
Blood Type:
Hobbies:
Weight: 49 kg
Burcin Terzioglu Gallery
Burcin Terzioglu Make-Up
Burçin Terzioğlu Makyajı Marie Claire Temmuz 2016 Hamiyet Akpınar