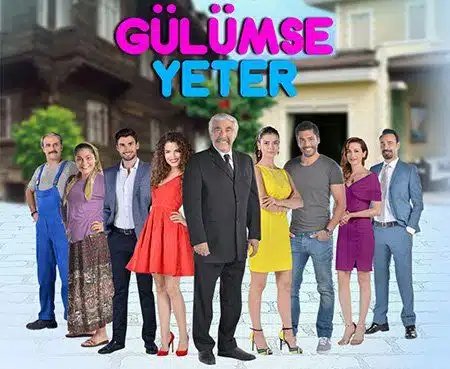 Details:
Original Title: Gulumse Yeter
English Title: Smile You
Also Known As: Just Smile
Genre: Comedy, Romance
Episodes: 24
Broadcast Network: Show Tv
Broadcast Period: July 8, 2016 – January 11, 2017
Production Company: MF Yapim
Director: Serdar Gozelekli
Screen Writer: Banu Kiremitci Bozkurt
Synopsis
Yasemin (Asli Bekiroglu) is the second daughter of a wealthy family. She is spoiled but manages to become happy at all occasions. When her family has gone bankrupt, she gets dumped by her groom Cem (Ugur Kurul) on their wedding day. While she is dreaming to go to their honeymoon, Yasemin finds herself stranded in the middle of the highway. She stops a taxi and goes to their longtime chauffer Hasan (Erdal Ozyagcilar) whom she considers as a grandfather.
Meanwhile, Sarp (Yilmaz Kunt) returns to Turkey after studying in the United States.
Sarp has been in love with Gul (Seray Kaya) who also studied in the U.S. Even though he has a degree in engineering, he wants to work at the university as an instructor instead of working at big companies. He just wants to have a quiet life with the girl whom she loves.
Out of pure coincidence, Yasemin and Sarp meet at the bus and find themselves with a simple misunderstanding.
Later, Yasemin finds out that Sarp is the grandson of her longtime chauffer. Sarp, on the other hand, learns that his love Gul is the older sister of Yasemin.
Yasemin and her family start to live at the house of their longtime chauffer when their house is sold due to financial reasons. There is nowhere else to go. Even though it is too hard for them, they have to live in this house and adjust their new life. Their life becomes more complicated when Yasemin develops some feelings for Sarp who still loves Gul.
In just smile (gulumse yeter) tv series story, you will explore the life of family who tries to learn how to adjust to life as commoners in their chauffeur's family. Will Yasemin forget about the past and start to have a happy life even if she is not rich anymore? Will Sarp manage to reveal his feelings for Gul? Will Yasemin continue to trust men after she is dumped at her wedding day?
Just Smile (Gulumse Yeter) Tv Series Cast
Erdal Ozyagcilar as Hasan Civan
Asli Bekiroglu as Yasemin Ozdemir
Yilmaz Kunt as Sarp Civan
Seray Kaya as Gul Ozdemir
Pamir Pekin as Kemal Kaleli
Ugur Kurul as Cem Tugrul
Erkan Sever as Lutfu Ozdemir
Sermet Yesil as Ahmet Civan
Asli Altaylar as Ayten Civan
Evrim Dogan as Nermin Ozdemir
External Links
Official Site: http://www.showtv.com.tr/dizi/tanitim/gulumse-yeter/1653
English Wikipedia:
Imdb:
Instagram: https://www.instagram.com/gulumseyetertv/
Twitter: https://twitter.com/gulumseyetertv
Youtube Channel: https://www.youtube.com/channel/UC0L5ymujv1wPuka8DofJVYg
You Might Also Like
Father is a Life (Baba Candir)
Just Smile (Gulumse Yeter) Tv Series Gallery
Just Smile (Gulumse Yeter) Tv Series Trailer (with English Subtitle)
Just Smile (Gulumse Yeter) Tv Series Trailer (Eng Sub)