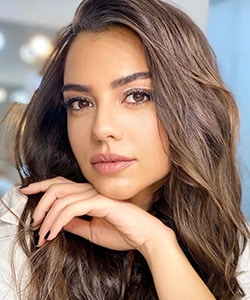 Profile
Name: Aslihan Malbora
Birthdate: March 27, 1995
Birthplace: Afyonkarahisar, Turkey
Height: 167 cm
Eye Color: Brown
Hair Color: Brown
Education: Istanbul Technical University Food Engineer (Istanbul Teknik Universitesi Gida Muhendisligi Bolumu)
Talent Agency:
Spouse:
Biography: Aslihan Malbora was born in 27 March 1995 in Afyonkarahisar, Turkey. She studied food engineering at Istanbul Technical University but did not finishher studies at chemical engineering due to her acting career. Aslihan Malbora took acting training at Akademi 35.5 Sanat Evi.
Aslihan Malbora Tv Series / Movies
2017 – Seven Ne Yapmaz (as Zeynep)
2018 – Sultan of My Heart (Kalbimin Sultani) (as Saliha Sultan)
2018 – Crying Mom (Aglama Anne) (as Zeynep Firincioglu)
2019 – Everywhere I Go (Her Yerde Sen) (as Ayda Akman)
2020 – Gel Dese Ask (as Derin Dudenli)
2020 – Aile Hukumeti (as Zeynep) (Movie)
2021 – Oluversin Gari (as Derya)
2021 – Herseye Ragmen (as Melahat) (Movie)
2021 – Gecen Yaz (as Ebru) (Netflix Movie)
2021 – The Bad Penny (Uc Kurus) (as Leyla)
Awards
Answers from an interview with Aslihan Malbora
Do you have any nickname?
Because of my teeth, I am called all kinds of animals from rodents. Rabbit, mouse, squirrel. And because of my surname, I get nicknames from all kinds of tobacco products.
Do you have any fear?
I am afraid of flights.
How do you consider yourself?
I have a happy personality. I cannot stand the unhappiness.
Is the color of your skin natural or do you tan it?
My skin is natural. My dad is dark and my mom is blonde. I have never been to a solarium.
Social
Instagram: https://www.instagram.com/aslihanmalbora/
Twitter:
Facebook:
E-Mail: [email protected]
Trivia
Body Type:
Skills:
Zodiac Sign: Aries
Blood Type:
Hobbies:
Weight:
Aslihan Malbora Gallery
The Pad Penny Tv Series – They Said There Is A Wedding, We Are Here!
Üç Kuruş 1. Bölüm - Düğün Var Dediler Geldik!