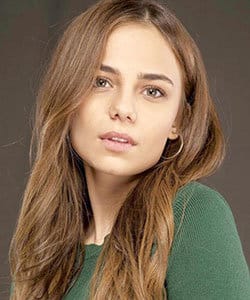 Profile
Name: Bahar Sahin
Birthdate: May 26, 1997
Birthplace: Artvin, Turkey
Height: 165 cm
Eye Color: Green
Hair Color: Brown
Education:
Talent Agency: Icon Talent Management
Spouse:
Biography: Bahar Sahin is from Artvin and she was born in Ankara in 26 May 1997. While she was 14 years old, her parents got divorced and she moved in Istanbul. She joined theatre clubs while going to school and took part in Ankara Altindag Youth Center Theatre Club. Her tv career started out of pure coincidence. While she was at restaurant with her family, she met producer Arzu Egmir who later intrıduced her to the director Merve Girgin from turkish series That Life is Mine (O Hayat Benim). Bahar Sahin made her debut with her role Muge at popular Turkish series That Life is Mine (O Hayat Benim).
Bahar Sahin Tv Series / Movies
2016 – That Life is Mine (O Hayat Benim) (as Muge Atahan)
2017 – Unregistered (Kayitdisi) (as Inci)
2017 – High School Patrol (Lise Devriyesi) (as Isil Yilmaz)
2017 – OHA Diyorum (as Bahar) (Movie)
2017 – My Travel Buddy (Yol Arkadasim) (as Cemre) (Movie)
2018 – Wealth (Servet) (as Ferah Feza)
2018 – My Travel Buddy (Yol Arkadasim 2) (as Cemre) (Movie)
2018 – Good Play (Iyi Oyun) (as Naz) (Movie)
2019 – 2020 Ruthless City (Zalim Istanbul) (as Ceren Yilmaz Karacay)
2020 – Iyi Aile Babasi (as Yagmur Pamuk)
Social
Instagram: https://www.instagram.com/baharsahiin/
Twitter:
Facebook:
E-Mail:
Trivia
Body Type:
Skills:
Star Sign:
Blood Type:
Hobbies:
Bahar Sahin Gallery
Photo Shooting Backstage
Bahar Şahin | Magazin İzmir
Make-Up
Bahar Şahin | Medikal Kaynak Uygulaması | SEDAT BİGA