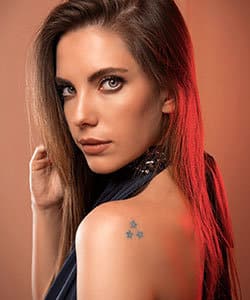 Profile
Name: Eda Ece Uzunalioglu
Birthdate: June 20, 1990
Birthplace: Istanbul, Turkey
Height: 167 cm
Eye Color: Green
Hair Color: Yellow
Education: Istanbul Bilgi University Psychology (Istanbul Bilgi Universitesi Psikoloji Bolumu); Sisli Terakki High School (Sisli Terakki Lisesi)
Talent Agency: Gaye Sokmen Ajans
Spouse:
Biography: Eda Ece was born in Istanbul in June 20th, 1990 as the 3rd children of her family. After graduating from Istanbul Bilgi University, she took history of art lessons and started to work at art gallery. She also took part in various theatre plays. Eda Ece made her debut with her role in popular youth Turkish drama Dirt Seven (Pis Yedili).
Eda Ece Tv Series / Movies
2002 – Mihriban
2004 – Askin Mucizeleri
2010 – Mahpeyker Kosem Sultan (Movie)
2011 – 2013 Dirty Seven (Pis Yedili) (as Guncicek Seymen / Cimbom)
2013 – 2014 Love Me As I Am (Beni Boyle Sev) (as Zeyno)
2013 – For My Daughter (Kizim Icin) (as Tuba) (Movie)
2015 – Husband Factor (Kocan Kadar Konus) (as Ceren) (Movie)
2015 – Relationship Status: It's Complicated (Iliski Durumu: Karisik) (As Elif)
2016 – Deli Dumrul (Movie)
2016 – Sister-in-Law (Gorumce) (as Deniz) (Movie)
2016 – Husband Factor: Resurrection (Kocan Kadar Konus: Dirilis) (as Ceren) (Movie)
2016 – Deprived (Mahrumlar) (as Ela) (Movie)
2017 – Ali Ekber Cevahir (as Eda)
2017 – Salur Kazan: Zoraki Kahraman (Movie)
2017 – Fellow Traveller (Yol Arkadasim) (as Aysun) (Movie)
2018 – Deliha 2 (Movie)
2018 – Forbidden Fruit (Yasak Elma) (as Yildiz Yilmaz)
Awards
2012 – Ayakli Gazete Awards (Ayakli Gazete) – Best Actress in Youth Tv Series (Dirty Seven) – Yilin En Iyi Genclik Dizisi Kadin Basrol Oyuncusu (Pis Yedili)
Social
Instagram: https://www.instagram.com/eda.ece/
Twitter: https://twitter.com/edaeceu
Facebook: https://www.facebook.com/resmiedaece
E-Mail:
Eda Ece Gallery
Eda Ece Make-up
Eda Ece Makyajı | Hamiyet Akpınar
Eda Ece Shooting (Backstage)
Eda Ece Shooting (Backstage)