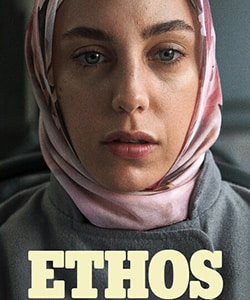 Details
Original Title: Bir Baskadir
English Title: Ethos
Also Known As:
Genre: Drama
Episodes: 8 (each episode is 45-60 minutes)
Broadcast Network: Netflix
Broadcast Period: November 12, 2020
Production Company: Krek Film
Director: Berkun Oya
Screen Writer: Berkun Oya
Filming Locations: Istanbul, Turkey
Synopsis
Meryem (Oyku Karayel) is a young woman who comes from a conservative family and lives on rural outskirts of Istanbul. She lives happily together with her brother Yasin (Fatih Artman), her sister-in-law and her nephew.
Meryem is a primary school graduate. She works as a cleaning lady and works at the houses of rich people. Each day, she sees other people's lives which are very different from her modest life.

Meryem suffers from fainting spells and goes to a doctor in order to understand its reason. When her test results all come back clean, her doctor suggests her to see a psychiatrist. Even though she does not believe that she has some psychological problems, she admits to have some therapy sessions.
Meryem consults with a psychiatrist who is the opposite pole of Turkish society. Her psychiatrist Peri (Defne Kayalar) is educated abroad, wealthy, and secular. While Meryem has an Anatolian-infected and witty manner of speaking, Peri has a professional and impeccable language. While Meryem comes from a conservative family, Peri has been raised in a secular world.
Additionally, Peri has some prejudices towards religious people and headscarved women. Due to this reason, she finds it very difficult to act in a professional manner when Meryem comes to her office.
Peri also sees a therapist. She shares her views with her friend and therapist Gulbin (Tulin Ozen). She complains about the growing conservatism in Turkey and she admits that she cannot get rid of her prejudice against women wearing headscarf.
Gulbin does her best to supervise her friend. However, she also struggles with her Kurdish identity in the society.
Meanwhile, Meryem supports her family both financially and emotionally. Her sister-in-law Ruhiye (Funda Eryigit) suffers from psychological problems and does not speak with anybody. For that reason, Meryem does her best to do house chores and to support her brother and her nephew.
Ethos (Bir Baskadir) tv series story is about a group of different people from various socio-cultural backgrounds which shows the diversity of Turkish society. Will Meryem find the reasons for her fainting spells? Will Ruhiye get over her psychological problems and find peace in her life? Will Ruhiye start to speak again? Will Peri get rid of her prejudice against women with headscarf? Will Gulbin live independently without experiencing any prejudice against her Kurdish identity?
Ethos (Bir Baskadir) Tv Series Cast
Additional Cast Members
Awards
2021 – 47th Golden Butterfly Awards (Altin Kelebek Odulleri) – Best Drama in Online Platform (En Iyi Internet Dizisi)
2021 – 47th Golden Butterfly Awards (Altin Kelebek Odulleri) – Best Screenwriter (En Iyi Senarist)
External Links
Official Site: Broadcast Network
English Wikipedia:
Imdb:
You Might Also Like
Wild Abandon (Uysallar)
Ethos (Bir Baskadir) Tv Series Trailer
Ethos (Bir Baskadir) Netflix Turkish Series Trailer