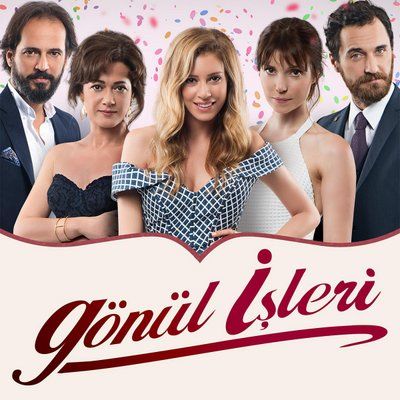 Details
Original Title: Gonul Isleri
English Title: Affairs of the Heart
Also Known As: Love Relations
Genre: Romance, Comedy
Episodes: 28
Broadcast Network: Star Tv
Broadcast Period: October 12, 2014 – April 26, 2015
Production Company: TMC Film
Director: Turkan Derya
Screen Writer: Necati Sahin
Synopsis
Servet (Bennu Yildirimlar) is a middle aged woman who works as a wedding planner. Since her mother left when she was 12 years old, she has become a mother for her two sisters. She has raised them and has done her best to make them happy. For this reason, she does not want to have a baby even though she is married to Yilmaz (Timucin Esen) for a long time. They have some problems with their marriage and get through a difficult time.
Her younger sister Saadet (Selma Ergec) is a young and naïve girl who works at a jewelry store. She has been engaged with Asrin (Firat Celik) for 9 months and is planning to get married soon. She is so happy and believes that she has found a perfect guy.
The youngest sister Sevda (Sinem Kobal), on the other hand, is a student at law school and pursues to have a wealthy life. She just wants to graduate her school and start working at the famous law firm where her boyfriend works.

The lives of these three women turn upside down at the same day and they have no choice but to start a new life all together. They make a perfect plan for the wedding of Saadet. Everything is ready but there is one missing thing: groom.
Asrin is a professional robber who has been planning to rob the jewelry store where Saadet works. He has been pretending to be in love with Saadet in order to get the keys for the jewelry store and rob the store at their wedding date.
Saadet is left alone at her wedding day and accused for being an accomplice of the robbery. Meanwhile, Servet finds out her husband's love affair and Sevda is dismissed from the school for cheating during the exam.
In affairs of the heart (gonul isleri) tv series story, you will explore the love relations of three different women. Will Servet forgive her husband and decide not to have a divorce? Will Saadet get through the tragedy she has experienced and live the rest of her life peacefully? Will Sevda find the true way and choose love over money? Will all these three women become successful at their new job?
Affairs of the Heart (Gonul Isleri) Tv Series Cast
Bennu Yildirimlar as Servet
Selma Ergec as Saadet
Sinem Kobal as Sevda
Timucin Esen as Yilmaz
Firat Celik as Asrin
Sezai Aydin as Muzaffer
Can Yaman as Bedir
Nihan Buyukagac as Alev
Pamir Pekin as Kemal
External Links
Imdb: https://www.imdb.com/title/tt4075230/
Wikipedia:
Official Site: https://www.startv.com.tr/video/arsiv/dizi/gonul-isleri
You Might Also Like:
Desperate Housewives (Umutsuz Ev Kadinlari)