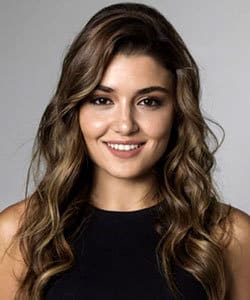 Profile
Name: Hande Erçel
Birthdate: November 24, 1993
Birthplace: Bandirma – Balikesir, Turkey
Height: 175 cm
Eye Color: Brown
Hair Color: Caramel
Education: Mimar Sinan Fine Arts School (Mimar Sinan Guzel Sanatlar Universitesi)
Talent Agency: Id Iletisim
Spouse:
Biography: Hande Erçel was born on 24 November 1993 in Balikesir. She become the second most beautiful woman in 2012 Miss Cilivaliton of the World organized in Azerbaijan. She made her debut with her role Selin in popular Turkish drama Sunshine Girls (Gunesin Kizlari).

Hande Erçel Tv Series / Movies
Awards
2012 – Miss Civilization of Turkey – First
2012 – Miss Civilization of World – Second
2015 – 42nd Golden Butterfly Awards – Rising Star (Sunshine Girls)
2016 – ITU EMOS Success Awards – Most Successful Actress (Sunshine Girls)
2016 – Turkey's Youth Awards – Best Actress (Sunshine Girls)
2016 – KTU Media Awards – New Rising Star (Sunshine Girls)
2017 – Yeditepe University 5. Dilek Awards – Best Actress in Comedy (Love Does Not Listen To Reason)
2017 – Istanbul Moda Rehberi Awards – Best Actress (Love Does Not Listen To Reason)
2017 – 44th Golden Butterfly Awards – Best Actress in Comedy (Love Does Not Listen To Reason)
2018 – Marketin Turkey: The One Awards – Best Actress (Black Pearl)
2021 – Golden Wings Awards – Best Actress of the Year (You Knock on My Door)
2021 – Ogrencilere Sorduk Project – The Best Duo (You Knock on My Door)
2021 – Guzel Awards – Best Actress (You Knock on My Door)
2021 – Guzel Awards – Best Couple (You Knock on My Door)
2021 – 10th KTU Media Awards – Most Admired Tv Series Couple (You Knock on My Door)
Music video: Demir Yagmur – Canin Sag Olsun (with Riza Kocaoglu)

Demir Yağmur - Canın Sağ Olsun
Social
Instagram: Official Instagram Account
Twitter: Official Twitter Account
Facebook:
E-Mail:
Trivia
Body Type:
Skills:
Zodiac Sign: Sagittarius
Blood Type:
Hobbies:
Weight:
Hande Erçel Gallery
Hande Erçel & Aras Bulut Iynemli
Hande Ercel & Aras Bulut Iynemli