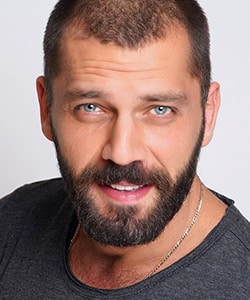 Profile
Name: Can Nergis
Birthdate: May 27, 1985
Birthplace: Istanbul, Turkey
Height: 190 cm
Eye Color: Blue
Hair Color: Black
Education:
Talent Agency:
Spouse: Jelena Milosavljević (m. 2017-present)
Biography: Can Nergis was born in 27 May 1985 in Istanbul. He completed his primary, secondary, and high school education in Istanbul and then went to London to study university. Can Nergis traveled to East Asia and worked as a model in China and Tailand. He stayed in Thailand for 8 years and opened a restaurant there. Can Nergis returned to Turkey in 2011 and started his tv career with Turkish series Despite Everything (Herseye Ragmen).
Can Nergis Tv Series / Movies
2011 – Despite Everything (Herseye Ragmen) (as Mehmet Demir)
2012 – Dila (Dila Hanim) (as Ihsan)
2014 – Pasa Gonlu (as Fikret)
2014 – 2015 Maral (Maral, My Most Beautiful Story) (as Yigit)
2014 – 2015 Back Streets (Arka Sokaklar) (as Onur)
2016 – Sweet Revenge (Tatli Intikam) (as Tolga)
2016 – 2017 Mom (Anne) (as Ali Arhan)
2018 – Wolf (Börü) (as Tolga Erlik)
2018 – Wolf (Börü) (as Tolga Erlik) (Movie)
2020 – Dedication Sacred Fight (Adanis Kutsal Kavga) (as Vincenzo)
2020 – 2021 Forbidden Fruit (Yasak Elma) (as Mert)
2021 – House of Lies (Kagit Ev) (as Bulent Isik)
Social
Instagram: https://www.instagram.com/cannergis/
Twitter: https://twitter.com/cannergis
Facebook:
E-Mail:
Trivia
Body Type:
Skills:
Star Sign: Gemini
Blood Type:
Hobbies:
Language: Turkish, English, Chinese, Thai and Russian
Gallery