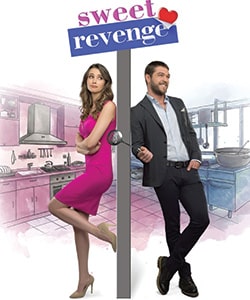 Details:
Original Title: Tatli Intikam
English Title: Sweet Revenge
Also Known As: Ek Haseen Intiqam
Genre: Comedy, Romance
Episodes: 30
Broadcast Network: Kanal D
Broadcast Period: March 26, 2016 – November 12, 2016
Production Company: D Productions
Director: Baris Ercetin
Screen Writer: Pinar Ordu, Ilker Aslan
Filming Locations: Istanbul, Turkey
Synopsis
Pelin (Leyla Lydia Tugutlu) is a young and beautiful girl but she never finds happiness in love. She eventually manages to change this fact. She persuades to get married to her prince charming, Tolga (Can Nergis). However, she is dumped at their wedding day.
Being under severe depression, she learns that all these bad fortune derives from the fact that she has hurt somebody in the past. She has to find that person in order to get his/her forgiveness so that she can have a happy life in the future. She questions her past and figures out that she needs to get forgiveness from Tankut (Furkan Andic) who was in love with Pelin when they were at college and was humiliated by Pelin in front of so many students.

Tankut is a successful cook and has a good restaurant. He is not the same person whom Pelin knows. After being humiliated, he leaves college and changes his life. He goes to abroad and becomes a successful cook. He returns to Turkey as a different guy (with a name Sinan) who is totally confident and handsome. Pelin thinks that she would easily get forgiveness from Tankut/Sinan. However, Tankut/Sinan wants to take his revenge.
In sweet revenge (tatli intikam) tv series story, you will explore a love story that develops in a restaurant. Will Pelin manage to get forgiveness from Tankut/Sinan? Will Tankut/Sinan forget his first love Pelin after being humiliated in front of other people? Will Tankut/Sinan manage to take his revenge or forgive Pelin easily?
Sweet Revenge (Tatli Intikam) Tv Series Cast
Leyla Lydia Tugutlu as Pelin Soylu
Furkan Andic as Sinan Yilmaz / Tankut
Seren Deniz Yalcin as Ceyda
Busra Develi as Ruzgar
Cagri Citanak as Bulent
Cemre Gumeli as Simay
Hazal Turesan as Basak
Can Nergis as Tolga
Ilker Kizmaz as Baris
Zeyno Gunenc as Suheyla Soylu
Aysenil Samlioglu as Meliha
Bulent Seyran as Necip Uysal
Elif Cakman as Havva
Kerem Atabeyoglu as Riza Soylu
Emre Taskiran as Hakan
Eylul Su Sapan as Duygu
Gursu Gur as Zubeyr
Baris Gonenen as Serkan
Alya Iydis as Bengisu
Toygun Ates as Turgut
Deniz Ozerman as Duygu
External Links
Official Site: https://www.kanald.com.tr/tatli-intikam
English Wikipedia:
Imdb:
You Might Also Like
Rental Love (Kiralik Ask)
Sweet Revenge (Tatli Intikam) Tv Series Gallery
Sweet Revenge (Tatli Intikam) Tv Series Trailer (with English Subtitle)
Sweet Revenge (Tatli Intikam) Tv Series Trailer (Eng Sub)