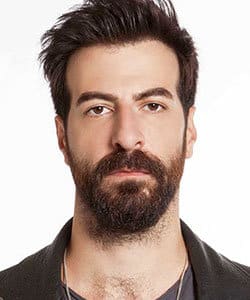 Profile
Name: Ismail Demirci
Birthdate: November 13, 1984
Birthplace: Ankara, Turkey
Height: 186 cm
Eye Color: Brown
Hair Color: Black
Education: Anatolia University State Conservatory – Theatre (Anadolu Universitesi Devlet Konservatuvari Tiyatro Bolumu)
Talent Agency:
Spouse: Hande Soral (m. 14 October 2017-present)
Biography: Ismail Demirci was born in 13 November 1984 in Ankara. Before studying theatre at Anatolia University, he studied computer programming and got a diploma as computer programmer. However, he decided to go to Conservatory. After graduating from Anatolia University, he started his acting career with his role in Turkish series Turkan.
Ismail Demirci Tv Series / Movies
2010 – Turkan (as Mehmet)
2010 – Silent Night (Sessiz Gece)
2011 – Moms and Daughters (Anneler ile Kizlari) (as Sedat)
2011 – Purple Violets (Mor Menekseler) (as Harun)
2013 – I Loved Him So Much (Ben Onu Cok Sevdim) (as Talat)
2013 – 2015 Valley of Wolves Ambush (Kurtlar Vadisi Pusu) (as Erkan)
2014 – Code Name Reaction (Kod Adi Reaksiyon) (as Tekin)
2014 – Keep Your Promise (Tut Sozunu) (Movie)
2015 – Factory Girl (Fabrika Kizi) (as Ferhat)
2015 – My Destiny (Serce Sarayi) (as Ramazan)
2016 – 2017 Magnificent Century Kosem (Muhtesem Yuzyil Kosem) (as Kemankes Kara Mustafa Pasa)
2016 – Father of Fathers (Babalarin Babasi) (as Berk) (Movie)
2017 – Post Box (Posta Kutusu) (as Nihat) (Movie)
2018 – Sins of My Father (Babamin Gunahlari) (as Reha)
2018 – Conqueror Mehmed (Mehmed: Bir Cihan Fatihi) (as Sehzade Orhan)
2018 – 2019 Crash (Carpisma) (as Galip)
2019 – 2020 North Star (Kuzey Yildizi Ilk Ask) (as Kuzey Mollaoglu)
Awards
Social
Instagram: https://www.instagram.com/ismaildemirci/
Twitter: https://twitter.com/ismaildemirci
Facebook:
E-Mail:
Trivia
Body Type:
Skills:
Star Sign:
Blood Type:
Hobbies:
Ismail Demirci Gallery