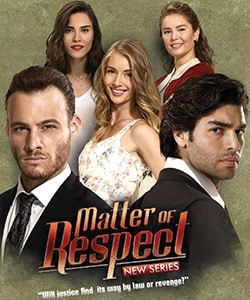 Details
Original Title: Seref Meselesi
English Title: Matter of Respect
Also Known As: Matter of Honor
Genre: Romance, Drama
Episodes: 26
Broadcast Network: Kanal D
Broadcast Period: November 23, 2014 – May 17, 2015
Production Company: D Productions
Director: Altan Donmez
Screen Writer: Teodosio Losito
Filming Locations: Ayvalik, Balikesir; Istanbul, Turkey
Synopsis
This tv series is based on the story of L'onore e il rispetto (Italian tv series, 2006-2015).
Yigit (Kerem Bursin) and Emir (Sukru Ozyildiz) are two brothers with totally different characters. Yigit is a smart and impetuous guy, and a handsome womanizer who has courage even though he has no education. Emir is the opposite of his brother: he is a shy and introverted guy who has recently finished the law school. They live happily with their family in Ayvalik which is a very small county in Turkey.

When their grandfather passes away, they move to Istanbul with the persistence of their mother. They sell the estate inherited by their grandfather and start a new life in Istanbul. However, their life turns upside down in this big city. A wealthy man in the neighborhood helps them invest their all savings in a jewelry store. But there is an intrigue and trouble behind this help. Immediately after opening the store, they get robbed and they lose everything. Since they do not have any insurance and since this robbery is related with mafia relations, the father of the family commits suicide. Soon after, the mother of the family becomes unable to bear the pain of her husband's death and loses her mind.
After this tragedy, Yigit and Emir seek for taking revenge of their family but they choose totally different ways. Yigit takes the route of underworld whereas Emir takes the route of the rule of law.  Two brothers lives also cross when they fall in love with the same woman, Sibel (Yasemin Allen) who is the most beautiful girl in the neighborhood. And, the story becomes complicated when Yigit starts to use Kubra (Burcu Biricik) as part of his father's revenge plan.
In matter of respect (seref meselesi) tv series story, you will explore the life of two brothers, Yigit and Emir, who want to take revenge of their family from underworld in Istanbul. Will Yigit and Emir eventually take revenge of their family? Will Yigit manage to become happy with Sibel? Will two brothers live in peace although they use different routes?
Matter of Respect (Seref Meselesi) Tv Series Cast
Kerem Bursin as Yigit Kilic (episodes 1-26)
Sukru Ozyildiz as Emir Kilic (episodes 1-26)
Yasemin Allen as Sibel Ozer Kilic (episodes 1-21)
Burcu Biricik as Kubra Capan Kilic (episodes 1-26)
Sukran Ovali as Derya Tanis (episodes 1-26)
Alma Terzic as Gul (episodes 1-26)
Tilbe Saran as Zeliha Kilic (episodes 1-15)
Kaan Uluca as Nihat Demir (episodes 1-17)
Olgun Toker as Seyhan Demir (episodes 21-25)
Sezin Bozaci as Neriman (episodes 1-26)
Ugur Uzunel as Selim (episodes 1-26)
External Links
Official Site: https://www.kanald.com.tr/seref-meselesi
English Wikipedia:
Imdb:
You Might Also Like:
For My Son (Poyraz Karayel)
Ezel
Matter of Respect (Seref Meselesi) Tv Series Trailer (with English Subtitle)
Matter of Respect (Seref Meselesi) Tv Series Trailer 1 (Eng Sub)
Matter of Respect (Seref Meselesi) Tv Series Trailer 2 (with English Subtitle)
Matter of Respect (Seref Meselesi) Tv Series Trailer (Eng Sub)