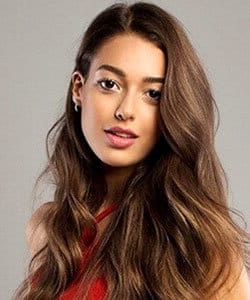 Profile
Name: Dilan Cicek Deniz
Birthdate: February 28, 1995
Birthplace: Sivas, Turkey
Height: 177 cm
Eye Color: Brown
Hair Color: Brown
Education: Ege University Comparative Literature (Ege Universitesi Karsilastirmali Edebiyat Bolumu)
Talent Agency: Icon Talent Management
Spouse:
Biography: Dilan Cicek Deniz was born in Sivas and her parents are teacher. She published a poetry book named I Assumed the Sun As My Mother (Gunesi Annem Sandim) when she was 15 years old. While she was going to high school, she took acting classes for three years. She became the 2nd ranking at 2017 Elidor Miss Turkey and she represented Turkey in Miami World Beauty Contest.
Dilan Cicek Deniz Tv Series / Movies
2013 – Honeymoon (Balayi) (Movie)
2015 – Pretty Little Liars (Tatli Kucuk Yalancilar) (as Ebru)
2015 – 2016 Daughters of Sun (Gunesin Kizlari) (as Elif)
2016 – 2017 A Bodrum Fairytale (Bodrum Masali) (as Su Erguven)
2017 – 2021 The Pit (Cukur) (as Sena Kocovali)
2020 – Yarina Tek Bilet (as Leyla) (Movie)
2020 – Interrupted (Yarim Kalan Asklar – Unfinished Love Circle) (as Elif Urazoglu)
2020 – 2021 Alev Alev (as Ruya Yildirimlar)
Awards
Social
Instagram: https://www.instagram.com/dilandeniz/
Twitter: https://twitter.com/dilandeniiz
Facebook:
E-Mail:
Gallery
Miss Universe Interview
Dilan Cicek Deniz - Miss Universe Interview
Queen of the party
Dilan Cicek Deniz - Queen of the party
Mat Ruj
Dilan Cicek Deniz - Mat Ruj