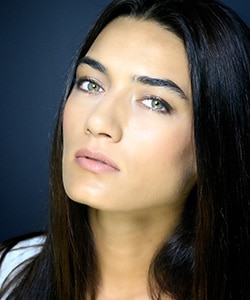 Profile
Name: Hande Subasi
Birthdate: February 21, 1984
Birthplace: Ankara, Turkey
Height: 180 cm
Eye Color: Green
Hair Color: Black
Education: Istanbul University French Translation (Istanbul Universitesi Fransizca Mutercim Tercumanlik bolumu)
Talent Agency: Be Management
Spouse: Can Tursan (m. 2012–2016)
Biography: Hande Subasi was born in 21 February 1984 in Ankara. After graduating from Istanbul Private Sainte Pulcherie French School, she studied at Kadikoy Anatolian Vocational School. She graduated from French Translation at Istanbul University. Hande Subasi became the Miss Turkey Beauty Pageant in 2005. After then, she represented Turkey at Miss World contest and won the award of best national costume.
Hande Subasi Tv Series / Movies
2006 – Vow (Adak) (as Nazli)
2006 – Kusdili (as Fidan)
2007 – 2009 Farewell Rumelia (Elveda Rumeli) (as Vahide)
2009 – Gelecekten Bir Gun (as Ebru) (Movie)
2009 – I Saw the Sun (Gunesi Gordum) (as Zehra) (Movie)
2010 – Carry the Life (Elde Var Hayat)
2011 – Anatolian eagles (Anadolu Kartallari) (as Burcu) (Movie)
2011 – Magnificent Century (Muhtesem Yuzyil) (as Saliha)
2012 – Enemy Brothers (Dusman Kardesler) (as Selin)
2013 – Mercy (Merhamet)
2014 – 2015 Resurrection Ertugrul (Dirilis Ertugrul) (as Aykiz)
2017 – 2018 Bahtiyar Does Not Die (Bahtiyar Olmez) (as Aylin Cakar)
2017 – Sleep of Love (Ask Uykusu) (Movie)
2021 – Twist of Fate (Baht Oyunu) (as Nergis Tozun Sahin)
Social
Instagram: https://www.instagram.com/handesubasicom/
Twitter: https://twitter.com/handesubasicom
Facebook:
E-Mail:
Sarki Soylemek Lazim
Emir Ersoy - Şarkı Söylemek Lazım ft. Hande Subasi