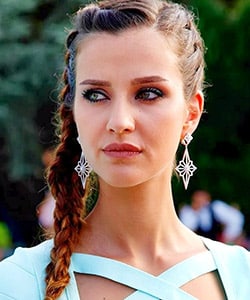 Profile
Name: Irem Helvacioglu
Birthdate: February 2, 1990
Birthplace: Germany
Height: 170 cm
Eye Color: Green
Hair Color: Brown, Yellow
Education: Mujdat Gezen Art Center – Theatre (Mujdat Gezen Sanat Merkezi – Tiyatro Bolumu)
Talent Agency: Berna Icoz Casting
Spouse:
Biography: Irem Helvacioglu was born in Germany. She actually comes from Ankara, Turkey but she stayed in Germany for a long time. She became very popular with her role Pelinsu in popular romantic comedy Turkish series No: 309. She became the main character for Turkish drama Sen Anlat Karadeniz.
Irem Helvacioglu Tv Series / Movies
2010 – Behzat C. (as Narin)
2012 – Magnificent Century (Muhtesem Yuzyil) (as Nurbahar Hatun / Clara)
2013 – 2014 Valley of Wolves Ambuish (Kurtlar Vadisi Pusu) (as Esra Turkmen)
2014 – Love Language (Askin Dili) (Movie)
2015 – 2016Sunshine Girls (Gunesin Kizlari – Daughters of Son) (as Tugce)
2016 – 2017 Room Number: 309 (No: 309) (as Pelinsu)
2016 – Organic Love Stories (Organik Ask Hikayeleri) (Movie)
2017 – Father (Babasi) (as Asli) (Movie)
2018 – My Daughter and I (Kizim ve Ben) (as Serap) (Movie)
2018 – 2019Lifeline (Sen Anlat Karadeniz – You Tell, The Black Sea) (as Nefes Zorlu Kaleli)
2020 – Eflatun (Movie)
2021 – Waiting for You (Seni Cok Bekledim) (as Ayliz)
Social
Instagram: https://www.instagram.com/iremhlvcioglu/
Twitter:
Facebook:
Mail: [email protected]
Irem Helvacioglu Gallery