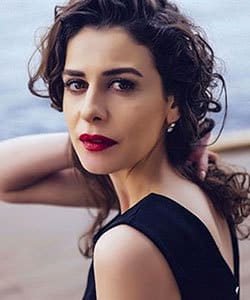 Profile
Name: Ebru Ozkan
Birthdate: November 18, 1978
Birthplace: Ankara, Turkey
Height: 173 cm
Eye Color: Green
Hair Color: Auburn
Education: Ankara University Theatre (Ankara Universitesi Dil-Tarih-Cografya Fakultesi Tiyatro Bolumu)
Talent Agency: Sogen Film Muzik Produksiyon
Spouse: Ertan Saban (m. 2016 – present)
Children: Biricik Saban
Biography: Ebru Ozkan was born in Ankara in 18 November 1978. She went school in Ankara and graduated successfully from Ankara University Theatre. Ebru Ozkan started her acting career when she was so young and at the same, she worked as a model. Ebru Ozkan became very popular with her role as Halide in popular Turkish drama Lady's Farm (Hanimin Ciftligi). After this Turkish drama, she started to take part in varous successful Turkish dramas and movies.
Ebru Ozkan Tv Series / Movies
2006 – Tear Team (Gozyasi Cetesi) (as Deniz)
2006 – Horror House: A Winter Fairytale (Kabuslar Evi: Bir Kis Masali) (as Melisa) (Movie)
2007 – Black Pearl (Kara Inci) (as Secil)
2009 – Guldunya (as Duru)
2009 – 2010 Lady's Farm (Hanimin Ciftligi) (as Halide)2010 – Plane Tree (Cinar Agaci) (as Berrin) (Movie)
2011 – Moms and Daughters (Anneler ile Kizlari) (as Defne)
2012 – Playing Nanny (Hayatimin Rolu) (as Ela)
2014 – Notebook (Not Defteri) (as Suna)
2014 – 2016 Broken Pieces (Paramparca) (as Dilara Terzioglu / Gurpinar)
2014 – Memories of the Wind (Ruzgarin Hatiralari) (as Leyla) (Movie)
2018 – Falcon Crest (Sahin Tepesi) (as Melek Ozden)
2019 – Hekimoglu (as Ipek Tekin)
Social
Instagram: https://www.instagram.com/ebruozkan__/
Twitter: https://twitter.com/ebruozkan_s
Facebook: https://www.facebook.com/ebruozkanofficial/
E-Mail:
Trivia
Body Type:
Skills:
Foot Number: 38
Size: 36
Hobbies: Hall Dances, Modern dance
Languages: English (Intermediate)
Ebru Ozkan Gallery