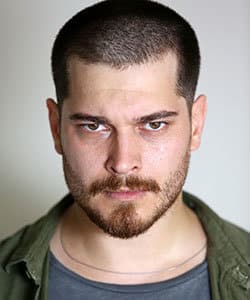 Profile
Name: Cagatay Ulusoy
Birthdate: September 23, 1990
Birthplace: Istanbul, Turkey
Height: 188 cm
Eye Color: Brown
Hair Color: Brown
Education: Istanbul University Faculty of Forestry – Irrigation Systems (Istanbul Universitesi Orman Fakultesi Sulama Sistemleri Bolumu)
Talent Agency: Engin Aykanat Management
Spouse:
Biography: Cagatay Ulusoy became the Best Model of Turkey in 2010. At the same night of Best Model of Turkey competition, he accepted the job offer by the producer of Turkish tv series I Named Her Feriha (Adini Feriha Koydum). If he did not get this job offer, he would go to France and worked as model instead of starting his acting career. In 2010, Cagatay Ulusoy started to study at Istanbul University but he had to freeze his registration due to changes in modeling and acting career. Cagatay Ulusoy took acting lessons at Academia 35 Bucuk in 2010. He made his debut with his role as Emir in popular Turkish drama I Named Her Feriha (Adini Feriha Koydum). Cagatay Ulusoy became well-known with his role as Emir Sarrafoglu and started to take part in various successful tv projects after then. Between 2013 and 2015, Cagatay Ulusoy took part in another popular Turkish Drama Tide (Medcezir) together with Serenay Sarikaya. He became the lead character Yaman. After then, he took part in another successful Turkish drama Insider (Icerde) and became the lead character Sarp. In order to become successful in this role, he took martial arts and weapon training in the U.S. Cagatay Ulusoy also took part in various TV commercials. He became the face of Colin's in 2016.
Cagatay Ulusoy Tv Series / Movies
2011 – 2012 Adini Feriha Koydum (I named Her Feriha) (as Emir Sarrafoglu)
2011 – Anatolian eagles (Anadolu Kartallari) (as Ahmet Onur) (Movie)
2012 – Paranoia (as Cagatay Ulusoy) (Short Movie)
2012 – Lightning Within The House (Eve Dusen Yildirim) (as Demir)
2012 – Emir'in Yolu (as Emir)
2013 – 2015 Tide (Medcezir) (as Yaman Koper)
2015 – Delibal (as Baris Ayaz) (Movie)
2016 – 2017 Insider (Icerde) (as Sarp Yilmaz)
2018 – 2020 The Protector (Hakan: Muhafiz) (as Hakan Demir)
2020 – The Agency (Menajerimi Ara) (as Cagatay Ulusoy)
2021 – Kagittan Hayatlar (as Mehmet) (Movie)
2021 – Yesilcam (as Semih Ates)
Awards
2010 – Best Model of Turkey (1st ranking)
2011 – ATV Prestij Awards – En Iyi Cikis Yapan Oyuncu
2011 – Magazinci.com Yilin En Iyileri Awards – Best Actor
2013 – Oyuncular Sitesi – Best Actor
2013 – 19. Siyaset Dergisi Awards – Best Tv Actor
2014 – Elle Style Awards – Most Stylish Actor of the Year in Supporting Role (Tide)
2014 – 5. Quality of Magazine Dergisi Awards – Best Quality Actor in Supporting Role (Tide)
2014 – Seul International Drama Awards – Best Actor in Supporting Role (Tide)
2014 – Ayakli Gazete Tv Yildizlari Awards – Best Drama Actor in Supporting Role (Tide)
2014 – Karadeniz Teknik Universitesi Awards – Best Actor in Supporting Role (Tide)
2014 – Canakkale 18 Mart Universitesi Awards – Best Actor in Supporting Role (Tide)
2014 – Schwarzkopf Professional Awards – Phenomenon of the Year in Supporting Role (Tide)
2015 – Turkiye Genclik Awards – Best Actor in Supporting Role (Tide)
2015 – Arel Universitesi 4. Medya Awards – Best Actor in Supporting Role (Tide)
2015 – MGD 21. Altin Objektif Awards – Best Drama Actor in Supporting Role (Tide)
2015 – Ege Universitesi 4. Medya Awards – Best Actor in Supporting Role (Tide)
2015 – 42. Golden Butterfly Tv Stars Awards – Best Actor in Supporting Role (Tide)
2017 – 15. YTU Yilin Yildizlari Awards – Best Movie Actor in Supporting Role (Delibal)
2017 – 12. ITU Makinistanbul Medya, Sanat ve Spor Award – Best Actor in Supporting Role (Insider)
2018 – GQ Moty by Clear 2018 Awards – Best Actor in Supporting Role The Protector (Hakan: Muhafiz)
Social
Instagram: https://www.instagram.com/cagatayulusoy/
Twitter: https://twitter.com/cagatayulusoyy
Facebook: https://www.facebook.com/cagatayulusoyofficial
Youtube: https://www.youtube.com/cgtyulusoyofficial
Web Site: http://cagatayulusoy.com.tr
Trivia
Body Type:
Skills:
Star Sign: Libra
Blood Type:
Hobbies:
Cagatay Ulusoy Gallery
Magazine Cover
Juggles Questions
Cagatay Ulusoy Juggles Questions
Delibal
Cagatay Ulusoy - Delibal #CagatayUlusoy
Cagatay Ulusoy & Taylor Marie Hill
Cagatay Ulusoy & Taylor Marie Hill #bizeuyar