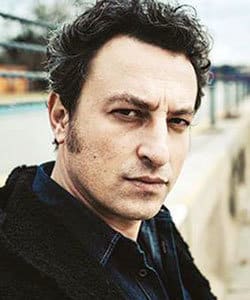 Profile
Name: Onur Saylak
Birthdate: May 12, 1977
Birthplace: Ankara, Turkey
Height: 180 cm
Eye Color: Brown
Hair Color: Black
Education: Middle East Technical University – Physics (ODTU Fizik); Ankara University Public Administration (Ankara Universitesi Kamu Yonetimi); Bilkent University Theatre (Bilkent Universitesi Tiyatro)
Spouse: Tuba Buyukustun (m. 2011 – 2017)
Children: Maya Saylak, Toprak Saylak
Other: Onur Saylak took part in various theatre plays during university education. While he was going to Bilkent University, he took part in various theatre plays such as "Getto" and "Uc Kurusluk Opera" at Ankara State Theatre and "Despite Everything" at Bilkent Theatre. He also worked as theatre director at Ankara TED College. He participated to university chorus and interested in musical plays (Biedermann ve Kundakcilar). He wrote songs for various theatre plays. He became a presenter of the TV program named Lets Go (Hadi Gidelim) at TRT2. He started his debut at televison with his role at Turkish movie Autumn (Sonbahar).
Notable Works
2000 The State of Our House (Bizim Evin Halleri)
2003 Love Does Come To Here (Ask Buraya Ugramiyor)
2004 Foreign Groom (Yabanci Damat) (as Ihsan)
2005 Neither With You Nor Without You (Ne Seninle Ne Sensiz) (as Batanay)
2006 Hisarbuselik (as Cetin)
2006 Code Name (Kod Adi) (as Erkan Karaca)
2007 Autumn (Sonbahar) (as Yusuf) (the movie)
2007 Rebellious (Asi) (as Tilki Ziya)
2007 Code Name: Chaos (Kod Adi: Kaos) (as Erkan Karaca)
2008 Fall Pain (Guz Sancisi) (the movie)
2009 Brought by the Sea (Denizden Gelen) (as Halil) (the movie)
2009 Breath (Nefes) (as Ates)
2010-2011 My Fair Lady (Gonulcelen) (as Levent)
2011 Can't Be Without You (Sensiz Olmaz) (as Aydin)
2012 Cholera Street New World (Agir Roman Yeni Dunya) (as Janti Metin)
2014 Life Tree (Hayat Agaci)
2015 Remember Gonul (Hatirla Gonul) (as Tekin)
2015 The Memoirs of Wind (Ruzgarin Hatiralari) (the movie)
2016 You Are My Country (Vatanim Sensin) (as Tevfik)
Awards
2009 – 41st Siyad Turkish Cinema Awards (41.Siyad Turk Sineması Odulleri) – Best Actor (Autumn) – En Iyi Aktor (Sonbahar)
2009 – 2nd Yesilcam Awards (2.Yesilcam Odulleri) – Best Actor (Autumn) – En Iyi Erkek Oyuncu (Sonbahar)
Director and Screenwriter
2015 – The Jungle (Orman) (Short Movie)
2016 – Daha (Movie)
Gallery