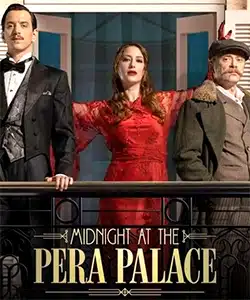 Details
Original Title: Pera Palas'ta Gece Yarisi
English Title: Midnight at the Pera Palace
Also Known As:
Genre: Mistery, Romance, Time Travelling
Episodes: 8+ (season 1 consists of 8 episodes, each episode is 45 minutes)
Broadcast Network: Netflix
Broadcast Period: March 3, 2022 – Present
Production Company: Karga Seven Pictures
Director: Emre Sahin, Nisan Dag
Screen Writer: Elif Usman (adapted from Charles King's book of Midnight at the Pear Palace)
Filming Locations: Pera Palas, Istanbul
Synopsis
This tv series is adapted from Charles King's book of Midnight at the Pear Palace.
Esra (Hazal Kaya) is a young and passionate journalist who dreams to make a change in history. She has grown up in an orphanage without knowing anything about her past and her parents.

Esra finds herself in the legendary Pera Palace Hotel in Istanbul while looking for her next big story. She is assigned to write a story about the hotel. Pera Palace is one of the landmarks in Istanbul and it is full of history. The hotel was built in 1892 for the passengers of the Orient Express and hosted Agatha Christie, Ernest Hemingway and Turkish Republic's founder Mustafa Kemal Ataturk.
When Esra comes to Pera Palace Hotel, she is astonished by the hotel's ambiance. She does not know anything about mysterious supernatural happenings.
Esra accidentally discovers a gateway to the year 1919 through a room 411. She is suddenly sent back to the past and finds herself in 1919.
The year 1919 is a turning point in Turkish history due to the fact that a young Ottoman general Mustafa Kemal started his journey towards the Turkish War of National Liberation on May 19, 1919.
When Esra travels in time and goes to the year 1919, she finds herself in the middle of political conspiracy. She accidentally learns a planned assassination against Mustafa Kemal and changes the history out of pure coincidence.
The assassinator kills a woman Peride (Hazal Kaya) looks exactly like Esra. It is revealed that Peride is an important woman in the history because she is supposed to prevent an assassination against Mustafa Kemal.
Meanwhile, a hotel manager Ahmet (Tansu Bicer) travels in time from 2022 to 1919 so as to bring Esra without changing anything in the history. However, he discovers that Turkish history would be in danger if they cannot prevent an assassination against Mustafa Kemal.
Thus, Esra disguises her identity and starts to act as if she is Peride. While staying in 1919 for a while, she aims to find the assassinator and put everything back in order. In this journey, Esra bumps into a handsome guy Halit (Selahattin Pasali) who helps her to ensure the election of Turkey's first president Mustafa Kemal.
Midnight at the Pera Palace (Pera Palas'ta Gece Yarisi) tv series story is about a young and passionate journalist who travels in time finds herself in 1919. Will Esra manage to prevent the future from changing? Will Esra and Ahmet solve the truth about the mysterious supernatural happenings in the Pera Palace Hotel? Will Esra learn something about her past? Will Esra and Halit develop some feelings for each other even though they belong to different times?
P.S. Agatha Christie's novel "Murder on the Orient Express" and Ernest Hemingway's story "The Snows of Kilimanjaro" have taken place in Pera Palace Hotel.
Midnight at the Pera Palace (Pera Palas'ta Gece Yarisi) Tv Series Cast
Additional Cast Members
Yasemin Szawlowski as Sonia
James Chalmers as George
Ahmet Varli as Dimitri
Nergis Ozturk as Eleni
Osman Albayrak as Naim Efendi
Ergun Metin as Fahrettin
Yasemin Sannino as Seniha
Clare Louise Frost as Agatha Christie
Jordan J Gallagher
External Links
Official Site: Broadcast Network
English Wikipedia:
Imdb:
You Might Also Like
The Protector (Hakan: Muhafiz)
Midnight at the Pera Palace (Pera Palas'ta Gece Yarisi) Tv Series Trailer (with English Subtitle)
Midnight at the Pera Palace (Pera Palas'ta Gece Yarisi) Tv Series Trailer (Eng Sub)
Midnight at the Pera Palace (Pera Palas'ta Gece Yarisi) Tv Series Trailer 2 (with English Subtitle)
Midnight at the Pera Palace (Pera Palas'ta Gece Yarisi) Tv Series Trailer 2 (Eng Sub)