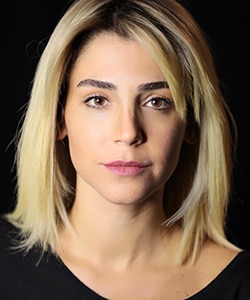 Profile
Name: Gokce Eyuboglu
Birthdate: August 1, 1983
Birthplace: Istanbul, Turkey
Height: 172 cm
Eye Color: Brown
Hair Color: Brown
Education: Akademi 35,5 Sanat Evi, Merve Taskan Studyo: Method Acting, Deniz Erdem Studyo: Eric Morris, Ileri Oyunculuk Teknikleri
Talent Agency: Selin Kok Management
Spouse:
Biography: Gokce Eyuboglu was born in 1 August 1983. She has been intersted in acting since her childhood. While she was going to secondary education, she wrote theatre plays for school show at the end of each semester. She also took part in theatre club throughout her education. Even though Gokce Eyuboglu studied public administration, she took acting lessons at Akademi 35,5 Art House. She also took acting lessons from Vahide Percin and Altan Gordum and took diction and dubbing lessons from Murat Atil and Sungun Bababacan.
Gokce Eyuboglu Tv Series / Movies
2010 – 2011 Love and Punishment (Ask ve Ceza) (as Pinar)
2012 – 2014 Fake World (Yalan Dunya)
2014 – Girls' Robbery (Kadin Isi: Banka Soygunu) (as Nermin) (Movie)
2015 – 2016 Married and Angry (Evli ve Ofkeli) (as Ceyda)
2016 – Impossible Probability (Imkansiz Olasilik) (as Duygu) (Movie)
2017 – 2020 Woman (Kadin) (as Ceyda Karatas Ascioglu)
2017 – My Name is Batlir, Not Butler (Batlir) (as Zekiye) (Movie)
2018 – Kayhan (as Sevim Sarigun) (Movie)
2020 – 2021 The Phoenix (Zumruduanka) (as Deniz Akbas)
2021 – All About Marriage (Evlilik Hakkinda Hersey – The Split) (as Sanem Cevher)
Awards
2021 – Mentally Challenged Federation Awards (Zihinsel Ozurluler Federasyonu Odulleri) – Faruk Oztimur Honor Award (Woman) – Faruk Oztimur Onur Odulu (Kadin)
Theatre Plays
2009 – 2010 Havhavlarla Hevhevler (as Leydi)
2015 – Bay Kolpert (as Sarah)
2016 – Kucuk Prens Muzikali (as Cicek)
2018 – Mutluyduk Belki Bugune Kadar (as Eva)
Social
Instagram: https://www.instagram.com/
Twitter:
Facebook:
E-Mail:
Trivia
Body Type:
Skills:
Zodiac Sign: Leo
Blood Type:
Hobbies:
Weight:
Gokce Eyuboglu Gallery