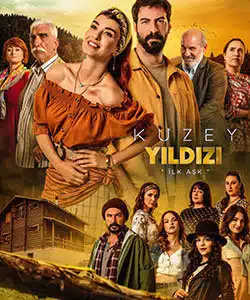 Details
Original Title: Kuzey Yildizi – ilk aşk
English Title: North Star – First Love
Also Known As:
Genre: Romance, Comedy
Episodes: 64
Broadcast Network: Show Tv
Broadcast Period: September 14, 2019 – May 15, 2021
Production Company: Surec Film
Director: Ersoy Guler
Screen Writer: Ersoy Guler
Filming Locations: Ordu, Ordu Tasbasi Ovasi, Kusluhan Village (Kusluhan Koyu, Giresun)
Synopsis
Kuzey (Ismail Demirci) has a wealthy life and lives happily with his family. He originally comes from Ordu, a small town in the Black Sea region of Turkey. However, he has been living in Istanbul since he left his hometown to study in Istanbul and rejected to work in the family business years ago. When he builds a new life for himself, he never returns to his hometown.
Kuzey's life turns upside down all of a sudden. His wife walks out and leaves the family behind. Kuzey finds himself penniless the next day and does not know how to start all over again with his three teenage girls: Feride (Gizem Gunes); Mine (Aslihan Kapansahin); and Gokce (Berfin Nilsu Aktas).
Feride is the eldest daughter who is the most supportive to his father. Mine and Gokce, on the other hand, are somewhat head-in-the-clouds. After their mother takes all their money and leaves them behind, the girls also find it very upsetting. However, they continue their lives as always and hope to get over this problem as soon as possible.

With the help of his daughters' support, Kuzey manages to gather his strength to settle back. He borrows money from a pawnshop with the suggestion of his business partner. However, 6 months later, when he needs to repay his debt, he encounters with a surprising offer. His business partner wants to get married to Feride in exchange for repaying Kuzey's debt. Upon this offer, Kuzey burns the bridges and accepts to become penniless rather than approving this marriage offer.
In a very short time, Kuzey's all belongings including his house are seized by sequestrators because he is not able to repay his debt to the pawnshop. Once again, he feels hopeless.
Kuzey has nothing to do but to return to his hometown where his parents live. He and his three daughters leave their modern life behind and go to Ordu, which is a small town in the Black Sea region of Turkey. When they arrive in Ordu, Kuzey could not stay in his parent's house because he has not been speaking with his father for a long time. He gets the keys of mountain house from his mother and starts to live in this house together with his three teenage daughters.
The life in the countryside is not easy at all. The girls who are accustomed to have high standards find it difficult to warm up the house, heat the water, and wash the dishes with their hands. Kuzey also finds it difficult to get the approval of the community. He has to work hard to win over the villagers and at the same time, he has to beg for forgiveness from his childhood sweetheart Yildiz (Aslihan Guner).
Yildiz is a beautiful local girl who was meant to marry Kuzey 20 years ago. After Kuzey left his hometown and break off the engagement, Yildiz could not forgive him. She never gets married after then even though she receives many marriage proposals. Yildiz loves Kuzey to death and at the same time, she cannot forgive him.
The arrival of Kuzey and his daughters changes the life of Yildiz too. When she sees Kuzey after many years, her anger is inflamed. She cannot stand for seeing him around her and wants to send him away no matter what.
North Star (Kuzey Yildizi) tv series story is a middle aged Kuzey who returns to his hometown Ordu after 20 years together with his three teenage daughters when his wife leaves them and takes all their savings. North Star (Kuzey Yildizi) story becomes more complicated when Kuzey meets his childhood sweetheart Yildiz who never gets married. Will Yildiz eventually forgive Kuzey and live in peace? Will Kuzey beg for forgiveness from his father and the community he rejected years ago? Will Kuzey's teenage daughters manage to adapt their new life in the countryside?
North Star (Kuzey Yildizi) Tv Series Cast
Aslihan Guner

as Yildiz Kadioglu Mollaoglu

Ismail Demirci

as Kuzey Mollaoglu

Cezmi Baskin

as Yasar Kadioglu

Ferda Kaynar

as Hanife Kadioglu

Huseyin Soysalan

as Seref Mollaoglu

Ugur Demirpehlivan

as Emine Mollaoglu

Toygan Avanoglu

as Sefer Kadioglu

Aslihan Kapansahin

as Mine Mollaoglu

Berfin Nilsu Aktas

as Gokce Mollaoglu

Gizem Gunes

as Feride Mollaoglu

Zeynep Kankonde

as Pembe Mollaoglu

Yasemin Hadivent

as Fadime

Ozgun Karaman

as Omer Zaimoglu

Merve Sen

as Nahide Kadioglu

Ecem Calhan

as Kamer Mollaoglu Kadioglu

Burak Can

as Poyraz Kadioglu

Inan Yilmaz

as Ruhi Yilmaz

Can Kiziltug

as Osman Simsek

Korcan Kol

as Emin Simsek

Sukru Ucuncu

as Sukru Simsek

Yuksel Tamer Birinci

as Bedri Simsek

Can Karakoc

as Mete Guler

Halil Ibrahim Kurum

as Halil Ibrahim

Asel Yilmaz

as Derin Su Kadioglu

Gokdeniz Hazar

as Guney Mollaoglu

Meltem Tuzuner

as Esma Simsek

Hande Yilmaz

as Sare Mollaoglu

Gulsah Tosun

as Esma Simsek

Mert Yavuzcan

as Cetin Alkor

Emrah Ozdilek

as Doctor Cihan

Zeynep Koltuk

as Sule Mollaoglu

Cengiz Bozkurt

as Cevher Kadioglu

Armagan Oguz

as Bulut

Ekinsu Culculoglu

as Isil

Melis Sabah

as Bahar

Gunes Emir

as Bahar

Murat Makar

as Engin Ar

Aycin Inci

as Fahriye
External Links
Official Site: Broadcast Network
English Wikipedia:
Imdb:
Social
Instagram: Official Instagram Account
Twitter: Official Twitter Account
Facebook: Official Facebook Account
Youtube Channel: Official Youtube Channel
You Might Also Like
Gulbeyaz
Firtina
North Star (Kuzey Yildizi) Tv Series Gallery
North Star (Kuzey Yildizi) Tv Series Trailer (with English Subtitle)
Kuzey Yıldızı İlk Aşk Teaser