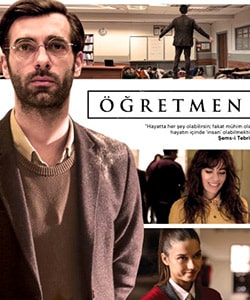 Details
Original Title: Ogretmen
English Title: The Teacher
Also Known As:
Genre: Psychological Mystery, Youth, Drama
Episodes: 9
Broadcast Network: Fox Tv
Broadcast Period: 4 March 2020 – 15 November 2020
Production Company: Med Yapim, MF Yapim
Director: Koray Kerimoglu
Screen Writer: Merve Girgin
Filming Locations: Istanbul, Turkey
Synopsis
The Teacher (Ogretmen) is a Turkish adaptation from the Japanese original series "Hiiragi's Homeroom".
Akif (Ilker Kaleli) is a physics teacher in a public high school in Istanbul. He seems to be silent and introverted person. After his fiancée Zeynep (Ceren Moray) falls into a coma due to an accident, he is transferred to this high school as a physics teacher. Since then, he has been working there without taking so much attention from his students and teachers at school for 6 months.
After Akif starts working at this school, one of his students commit a suicide. Akif is determined to reveal the truth behind the suicide of his student Ruya.

Ruya (Doga Ozum) is a promising and award-winning athlete who comes from a poor family. She is accused of using doping in the latest athletic competition. Even though she tries to prove her innocence, she cannot persuade anybody and suffers from verbal harassment both online and at school. Eventually, Ruya commits suicide with no suicide note or last words.
After this tragedy, Akif uses a different method and decides to give a humanity lesson to his students. He calls all the students from 12-A class to make an exam and then, stands in front of 29 students and tells them "from this moment, you are my hostages." Since he is a physics teacher, he uses his knowledge to make bomb. He makes 12-A class become isolated from the rest of the school by blowing up a bomb. At the same time, in order to execute his plan successfully, Akif has already changed all the windows with unbreakable glass. Hence, students can no longer be able to go out and communicate with the outside world.
Akif asks one question to his students "Who is responsible for the death of Ruya?" Until the truth is unveiled, nobody is allowed to get free. While looking for an answer for this question, students start to face the truth about something that they have turned their backs on. As time goes, the story becomes more complicated and mysterious details about the suicide are revealed.
The Teacher (Ogretmen) tv series story is about physics teacher who takes his students as hostages to reveal the truth about the suicide case at his school. What has happened to Akif's fiancée Zeynep? Will Akif manage to give humanity lesson to his students? Will Akif manage to reveal the truth of Ruya's suicide? Will students get free eventually?
The Teacher (Ogretmen) Tv Series Cast
Ilker Kaleli as Akif Erdem
Ceren Moray as Zeynep Talasli
Afra Saracoglu as Gizem Bozkurt
Serhat Kilic as Taner Arslan
Serkan Keskin as Yilmaz Ozturk
Serif Erol as Metin Yoney
Ruhi Sari as Ziya Ornek
Beran Soysal as Mahir Arat
Cansin Senel as Simge Turgut
Hasan Sahinturk as Kenan Talasli
Ismail Karagoz as Coskun Eren
Hakan Dinckol as Harun
Elif Ceren Balikci as Mevsim Yilmaz
Ezgi Gor as Nil Ogunlu
Doga Ozum as Ruya Ornek
Bensu Ugur as Selin Ozbir
Ozgur Civelek as Fiko Gungor
Can Bartu Aslan as Cetin Taskiran
Seyit Nizam Yilmaz as Halil Aytekin
Goksu Melek Ulucan as Mine Alkan
Burak Can Aras as Ismail Cokcalis
Deniz Ozgur as Seher Sen
Omer Furkan Eroglan as Salih Karakaya
Mert Ramazan Demir as Ates Genc
Efekan Can as Tugrul Demir
External Links
Official Site: Broadcast Network
English Wikipedia:
Imdb:
Social
Instagram: @ogretmenfoxdizi
Twitter:
Facebook: @ogretmenfoxdizi
Youtube Channel: @Ogretmen
You Might Also Like
Personality (Sahsiyet)
The Teacher (Ogretmen) Tv Series Trailer (with English Subtitle)
The Teacher (Ogretmen) Tv Series Trailer (Eng Sub)