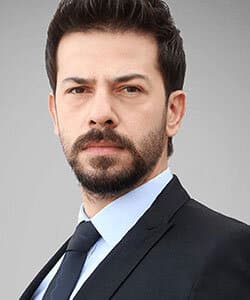 Profile
Name: Ahmet Tansu Tasanlar
Birthdate: May 31, 1984
Birthplace: Ankara, Turkey
Height: 190 cm (6′ 2¾")
Eye Color: Brown
Hair Color: Black
Education: Selcuk University State Conservatory – Theatre (Selcuk Universitesi Devlet Konservatuvari Tiyatro Bolumu)
Talent Agency:
Spouse:
Biography: Ahmet Tansu Tasanlar was born in 31 May 1984 in Ankara. Since his father is a government official, he had to live in different cities throughout his childhood. Durinh high school, Ahmet Tansu Tasanlar started to be interested in theatre. In 1996, he took acting lessons at Osmangazi Culture Center (Osmangazi Kultur Evi) and then studied theatre at Selcuk University. While he was studying at Selcuk University, he took part in theatre plays at Konya State Theatre. After then, He worked at Bursa and Ankara State Theatres. He first became a guest actor in turkish tv series Taxi Station (Akasya Duragi) and then, took part in various tv projects.
Ahmet Tansu Tasanlar Tv Series / Movies
2008 – Taxi Station (Akasya Duragi)
2008 – 2010 Little Women (Kucuk Kadinlar) (as Ceyhun)
2009 – Beyond the Clouds (Bir Bulut Olsam) (as Salih)
2009 – Peevish Girl Kadife (Hircin Kiz Kadife) (as Suleyman) (Movie)
2011 – Magnificent Century (Muhtesem Yuzyil) (as Antuan)
2011 – False Spring (Yalanci Bahar) (as Aras)
2011 – Izmir Gangs (Izmir Cetesi) (as Rifat)
2012 – Farewell (Veda) (as Sinan)
2013 – The Little Apocalypse (Kucuk Kiyamet) (Movie)
2014 – 2016 Black Money Love (Kara Para Ask) (as Arda Cakir)
2015 – Moms and Mothers (Analar ve Anneler) (as Halil)
2016 – 2017 Wounded Love (Vatanim Sensin) (as Hasan Basri)
2017 – Black Destiny (Kara Yazi) (as Kadir)
2017 – Taksim Hold'em (as Ra) (Movie)
2017 – 2018 The Pit (Cukur) (as Avukat Nazim)
2018 – 2019 Victorious Mehmets (Mehmetcik Kut'ul Amare) (as Zafir)
2019 – Hercai (as Azat Sadoglu)
Awards
Social
Instagram: https://www.instagram.com/nineteen0seven/
Twitter: https://twitter.com/nineteen0seven
Facebook:
E-Mail:
Trivia
Body Type:
Skills:
Star Sign: Gemini
Blood Type:
Hobbies:
Weight: 85 Kg
Ahmet Tansu Tasanlar Gallery