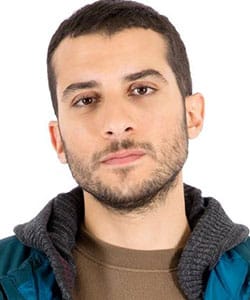 Profile
Name: Firat Altunmese
Birthdate: March 16, 1990
Birthplace: Istanbul, Turkey
Height: 189 cm
Eye Color: Brown
Hair Color: Black
Education: Istanbul Bilgi University Cinema and Theatre (drop out) (Istanbul Bilgi Universitesi Sinema ve Televizyon Bolumu – 2.Sinif Terk)
Talent Agency:
Spouse:
Biography: Firat Altunmese was born in 16 March 1990 in Istanbul. He is the son popular Turkish folk singer Izzet Altinmese. While he was studying at university, he dropped out school at his second year. After then, he was interested in rap music and took acting lessons from Istanbul Craft. Firat Altunmese started his acting career with his role in Turkish drama Conscience (Vicdan).
Firat Altunmese Tv Series / Movies
2013 – Conscience (Vicdan) (as Emre)
2014 – 2015 Runaway Brides (Kacak Gelinler) (as Can)
2015 – Maral: My Most Beautiful Story (Maral: En Guzel Hikayem) (as Oytun Feyman)
2015 – Hesapda Ask (Movie)
2016 – 2017 Brave and Beautiful (Cesur ve Guzel) (as Kemal)
2016 – Amber (Kehribar) (as Kemal Bozoglu)
2017 – Sofra Sirlari (as Ramo) (Movie)
2017 – 2018 Lion Family (Aslan Ailem) (as Umut Aslan)
2019 – 2021 Miracle Doctor (Mucize Doktor) (as Doctor Demir Aldirmaz)
2021 – All About Marriage (Evlilik Hakkinda Hersey) (as Vural Beyaz / Aztek)
Awards
Social
Instagram: https://www.instagram.com
Twitter:
Facebook:
E-Mail:
Spotfy: https://open.spotify.com/album/6HFYKu7udJAmPt3PSEr0Ci?si=v4OpnkiORGmw1QFNZoqByA
Trivia
Body Type:
Skills:
Star Sign: Fish Sign
Blood Type:
Hobbies:
Weight: 81 kg
Firat Altunmese Gallery
Firat Altunmese Rap Music (Bekliyodum Bayadir)
F.A. - Bekliyodum Bayadır