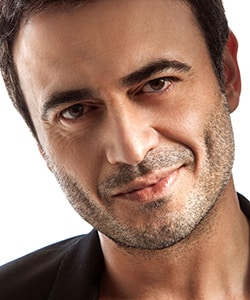 Profile
Name: Ahmet Kutsi Karadogan
Birthdate: March 16, 1973
Birthplace: Malatya, Turkey
Height: 175 cm
Eye Color: Brown
Hair Color: Black
Education: Ayranci Anatolian High School (Ayranci Anadolu Lisesi); Architecture (dopped out)
Talent Agency:
Spouse: Sinem Bayraktutar (m. 2008–2015), Sibel Ulker (m. 2021 – present)
Children: Ceylin Ada Karadogan, Lila Karadogan
Biography: Kutsi was born on March 16, 1973 in Malatya. His mother's name is Hatice and his father's name is Sinasi. Kutsi took singing training during his high school years because he got comments like "your voice is beautiful". Kutsi became very popular in 2000 when he released his first music album "Ask Payini Aldi" by Erol Kose Production. After then, he took a long break and released his second music album "Sana Ne" in 2005 by Erol Kose Production. Kutsi dropped out his university education of architecture and continued his music career.

Kutsi Tv Series / Movies
2006 – 2009 Doctors (Doktorlar) (as Levent Atahanli)
2009 – 2010 Kahramanlar (as Yigit Ozkan)
2012 – 2014 Peace Street (Huzur Sokagi) (as Bilal Ocak)
2015 – Beyaz Yalan (as Demir Guner)
2015 – Zilin Sesi (as Tarkan) (Movie)
2016 – 2018 Deniz Inside My Heart (Kalbimdeki Deniz) (as Mirat Yavuz)
2019 – 2021 Benim Adim Melek (as Halil Sirhan)
2022 – Bugday Tanesi (as Serkan Bayram) (Movie)
2023 – Uvey Anne (as Faruk)
Social
Instagram: Instagram – kutsiofficial
Twitter: X – @officialkutsi
Facebook: Facebook – kutsiofficial
E-Mail:
Trivia
Body Type:
Skills:
Star Sign: Pisces
Blood Type:
Hobbies:
Weight: 73 kg
Kutsi – Sana Ne