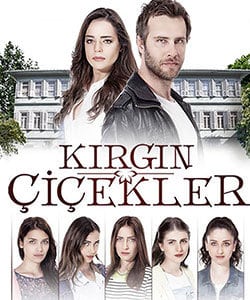 Details
Original Title: Kirgin Cicekler
English Title: Hurt Flowers
Also Known As: Orphan Flowers
Genre: Drama
Episodes: 113
Broadcast Network: Atv
Broadcast Period: June 19, 2015 – March 12, 2018
Production Company: NTC Yapim
Director: Serkan Birinci
Screen Writer: Gul Abus Semerci, Yelda Eroglu
Orphan Flowers Synopsis
Feride (Ipek Karapinar) is an idealist young officer who works in an orphanage. She tries to do her best to help the girls who lives in the orphanage. She tries to understand them and devotes her time to help them gain dignity. She considers these girls who are left behind by their parents as flowers in her garden.
One day, a young girl named Eylul (Biran Damla Yilmaz) who is 17 years old comes to the orphanage. Eylul has a family consisting of her little sister, her mother, and her step father. When she discloses the harassment of her step father, she finds herself in the orphanage. She expects that her mother would send her step-father away but her mother sacrifices her own daughter and lets her go. Now, Eylul has to adapt her new life in the orphanage.
Like Eylul, Feride also needs to start a new life because she discovers her fiance's affair and leaves him behind. She moves into another house where she meets a young and handsome neighbor named Toprak (Ozgur Cevik).
In this story, you will explore the difficult lives of young girls who live in the orphanage. Will Eylul manage to get through the difficulties in her new life? Will Feride manage to help the girls in the orphanage to gain their dignities? Will Feride find happiness again with Toprak?
Orphan Flowers Cast
Ozgur Cevik as Toprak
Ipek Karapinar as Feride
Biran Damla Yilmaz as Eylul
Almila Ada
Mehmet Aykac as Serkan
Veda Yurtsever as Nazan
Sacide Tasaner as Neriman
Zeynep Irgat as Hediye
Gokce Akyildiz as Songul
Hazar Motan as Cemre
Cagla Irmak as Kader
Aleyna Solaker as Meral
Orphan flowers trailer
Orphan Flowers - Hurt Flowers Tv Series Trailer
External Links
Imdb: http://www.imdb.com/title/tt5224200/
Wikipedia:
Official Site: http://www.atv.com.tr/diziler/kirgin-cicekler
You Might Also Like:
Wall (Duvar)
Tide and Eid (Medcezir)