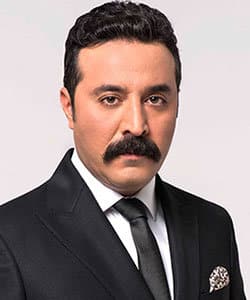 Profile
Name:
Mustafa Ustundag
Birthdate:
February 11, 1977
Birthplace:
Mersin, Turkey
Height:
174 cm
Eye Color:
Brown
Hair Color:
Black
Education:
Mujdat Gezen Art Center Theatre (Mujdat Gezen Sanat Merkezi – Tiyatro)
Talent Agency:
Spouse:
Ecem Ozkaya Ustundag
(m. 2010 – present)
Children:
Ahmet Kaan Ustundag
Biography:
Mustafa Ustundag was born in 11 February 1977 in Mersin. His mother is a housewife while his father is a worker at Anatolia Glass Factory (Anadolu Cam Sanayi Fabrikalari). He went to primary, secondary and high school in Mersin and then went to Istanbul to study at Conservatory. Since he used to speak with Mersin accent, he could not pass the entrance exam at first but he worked so hard for one year and managed to enter the Conservatory at his second attempt. After taking theatre lessons at Mujdat Gezen Art Center, Mustafa Ustundag started to work at Kocaeli Region Theatre (Kocaeli bolge Tiyatrosu), Kartal Sanat Isligi, MSM Actors, Pervasiz Theatre. Mustafa Ustundag took part in various tv projects yet he became very popular with his role as Muro in Valley of Wolves Ambush (Kurtlar Vadisi Pusu). He portrayed successfully the cruel bully with comic attitudes.
Mustafa Ustundag Tv Series / Movies
1999 – Story of Snake (Yilan Hikayesi)
2000 – Beware of Baby (Dikkat Bebek Var) (as Zeki)
2002 – Under the Stars (Yildizlarin Altinda)
2003 – Price (Bedel)
2003 – City Nightmare (Metropol Kabusu) (as Behlul) (Movie)
2004 – Cennet Mahallesi (as Ilker)
2004 – Gulizar (as Ali) (Movie)
2004 – Uy Basuma Gelenler (as Cemal)
2005 – Slave to Love (Aska Surgun) (as Celal Sahvar)
2005 – Yes Sir (Emret Komutanim) (as Sado)
2005 – Journey (Yolculuk) (as Huseyin) (Movie)
2011 – Back Streets (Arka Sokaklar)
2006 – Yes Sir: CheckMate (Emret Komutanım: Sah Mat) (as Sado) (Movie)
2007 – 2009 Valley of Wolves Ambush (Kurtlar Vadisi Pusu) (as Muro)
2007 – Drifters (Yersiz Yurtsuz) (as Mehmet Emin)
2007 – Zeynep's Eight Days (Zeynep'in Sekiz Gunu) (as Ali) (Movie)
2007 – Zincirbozan (as Talat) (Movie)
2008 – Dilber's Eight Days (Dilber'in Sekiz Gunu) (Movie)
2008 – Muro: Damn the Humanist Inside (Muro: Nalet Olsun Icimdeki Insan Sevgisine) (as Muro) (Movie)
2008 – Yasar neither Live nor Die (Yasar Ne Yasar Ne Yasamaz) (Movie)
2009 – Big Brother (Abimm) (as Cetin) (Movie)
2009 – Sprigs (Bahar Dallari)
2009 – Deli Dumrul in the World of Wolves and Birds (Deli Dumrul Kurtlar Kuslar Aleminde) (as Husnu Baba) (Movie)
2009 – Kutsal Damacana 2: It Men (Movie)
2010 – Cumbur Cemaat Aile (as Yavuz)
2011 – Vay My Friend (Vay Arkadas) (as Sadik) (Movie)
2011 – The Day Turned to Night (Gun Aksam Oldu) (as Ayhan)
2011 – Izmir Gangs (Izmir Cetesi) (as Selami)
2012 – Let It Be the Last (Bu Son Olsun) (as Asaf) (Movie)
2012 – Long Story (Uzun Hikaye) (Movie)
2013 – 2014 Mercy (Merhamet) (as Sermet Karayel)
2014 – Law of Love (Askin Kanunu) (as Cetin)
2014 – Gulyabani (as Kadir) (Movie)
2015 – White Night (Beyaz Gece) (as Hasmet)
2015 – Magnificent Century Kosem (Muhtesem Yuzyil: Kosem) (as Kara Davut Pasa)
2015 – Seytan Tuyu (as Metin) (Movie)
2016 – Wings of Love (Bana Sevmeyi Anlat) (as Hasmet)
2017 – This Does Not Count (Bu Sayilmaz) (as Armagan)
2017 – 2018 The Pit (Cukur) (as Kahraman Kocovali)
2018 – Dangerous Wife (Tehlikeli Karim) (as Firat)
Awards
2008 – 13. Sadri Alisik Awards (13.Sadri Alisik Odulleri) – Promising Young Actor (Zeynep's Eight Days) – Umut Veren Genc Oyuncu (Zeynep'in Sekiz Gunu)
2011 – 16. Sadri Alisik Awards (16.Sadri Alisik Odulleri) – Best Actor in Supporting Role (Comedy) (Vay My Friend) – En Iyi Yardimci Oyuncu (Komedi) (Vay Arkadas)
Social
Instagram: https://www.instagram.com/mstfustundag/
Twitter:
Facebook:
E-Mail:
Mustafa Ustundag Gallery
Mustafa Ustundag Michael Jackson role
Mustafa Ustundag Michael Jackson role
Mustafa Ustundag: Mest Oldum Song
Mustafa Ustundag Mest Oldum Song