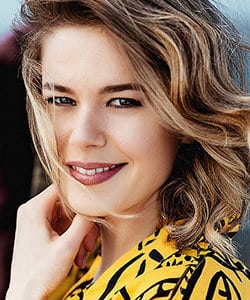 Profile
Name: Burcu Biricik
Birthdate: May 4, 1989
Birthplace: Antalya, Turkey
Height: 170 cm
Eye Color: Blue
Hair Color: Blonde
Education: Ege University Archeology (Ege Universitesi Arkeoloji Bolumu)
Talent Agency:
Spouse: Emre Yetkin (m. 2016 – present)
Biography: Burcu Biricik was born in May 4, 1989 in Antalya. She became Mediterranean Beauty at the Beauty Contest organized in Antalya in 2006. After Burcu Biricik won an award at theatre fest while she was going to high school, she decided to do theatre professionally. While she was studying at Ege University, she also took acting lessons at Bornova Municipality City Theatre. She started her acting career at Bornova Municipality City Theatre as an intern. She took part in various theatre plays such as Burada Ikinin Biri, Yasli Hanimin Ziyareti, Gozlerimi Kaparim, Vazifemi Yaparim and Yedi Kocali Hurmuz. Burcu Biricik started her acting career on TV with a supporting role in Turkish drama named Macolar (broadcasted in tv channel Show TV). In 2011, She attended a TV show "Actor School" (Artiz Mektebi) which is a competition about acting skills and she became the 1st ranking. Burcu Biricik took part in many tv projects but she became very popular with her role in popular Turkish drama Flames of Desire (Hayat Sarkisi).

Burcu Biricik Tv Series / Movies
Awards
2017 – 3. Elele Avon Kadin Awards – Best Actress (Hayat Sarkisi)
2017 – 5. Bilkent Tv Awards – Best Drama Actress (Hayat Sarkisi)
2017 – 12. ITU Makinistanbul Medya, Sanat ve Spor Awards – Best Actress (Hayat Sarkisi)
Social
Instagram: Official Instagram Account
Twitter: Official Twitter Account
Facebook:
E-Mail: Contact
Burcu Biricik Gallery
Burcu Biricik – Flames of Desire (Hayat Sarkisi)
Burcu Biricik - Flames of Desire (Hayat Sarkisi)