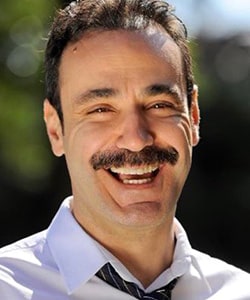 Profile
Name: Erkan Sever
Birthdate: July 11, 1974
Birthplace: Izmir, Turkey
Height: 184 cm
Eye Color: Green
Hair Color: Black
Education: 9 Eylul University – Theatre (9 Eylul Universitesi Oyunculuk Bolumu)
Talent Agency: Dilek Carkci Management
Spouse:
Biography: Erkan Sever was born in 11 July 1974 in Izmir. He is a Turkish actor and at the same time, assistant of director. After working at state theatre, he joined Istanbul City Theatre in 1996. While he is taking part of various tv projects, Erkan Sever continues to work at Istanbul City Theatre.
Erkan Sever Tv Series / Movies
1988 – Kaynanalar
1995 – Cicek Taksi
1998 – Orumcek (as Cihan)
2000 – House of Angels (Melekler Evi) (as Turan) (Movie)
2001 – Cinlerle Periler (as Ahmet)
2002 – Fathers Last Hear (En Son Babalar Duyar)
2002 – Sirlar Dunyasi
2002 – Don't Let The Kids Know (Cocuklar Duymasin) (as Osman)
2003 – Roses (Muhurlu Guller) (as Tevfik)
2004 – 24 Hours (24 Saat)
2005 – Omer Seyfettin: And ve Kasagi (as Sadullah) (Movie)
2005 – Omer Seyfettin: Sadristsn Karisi ve Oglu (as Sinasi) (Movie)
2005 – Omer Seyfettin: Canakkale'den Sonra (as Serhat) (Movie)
2006 – Daha Neler (as Ismail)
2006 – 2007 Ezo Bride (Ezo Gelin) (as Omer)
2008 – Last Agha (Son Aga) (as Omer)
2009 – Rina (as Adem) (Movie)
2009 – Teyzanne (as Zafer)
2010 – Valley of Wolves Palestine (Kurtlar Vadisi Filistin) (as Abdullah) (Movie)
2011 – Izmir Gangs (Izmir Cetesi) (as Zeki)
2012 – Enemy Brothers (Dusman Kardesler) (as Mujdat)
2013 – Kedi Ozledi (as Erkan) (Movie)
2014 – Two Hearts as One (Birlesen Gonuller) (as Bedel) (Movie)
2014 – Beautiful Villager (Guzel Koylu) (as Niyazi Gittigider)
2015 – Hayat Mucizelere Gebe (as Suat)
2016 – Smile You (Gulumse Yeter) (as Lutfu)
2017 – 2020 Let's Go (Kalk Gidelim) (as Mustafa Ali Dal)
Awards
Social
Instagram: https://www.instagram.com/erkansever/
Twitter: https://twitter.com/erkansewer
Facebook:
E-Mail:
Trivia
Body Type:
Skills:
Star Sign: Crab
Blood Type:
Hobbies:
Weight: 82 kg
Erkan Sever Gallery
Erkan Sever Showreel