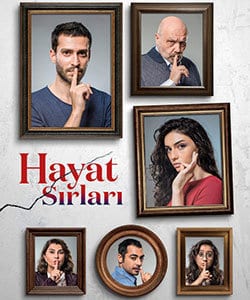 Details
Original Title:
Hayat Sirlari
English Title:
Life of Secrets
Also Known As:
Genre:
Drama
,
Family
Episodes:
11
Broadcast Network:
Star Tv
Broadcast Period:
November 8, 2017 – January 26, 2018
Production Company:
Most Production
Director:
Murat Can Oguz
Screen Writer:
Mahinur Ergun
Synopsis
Mustafa Kuzgun (Ahmet Mumtaz Taylan) has a modest life in Istanbul. He lives happily together with his wife Inci (Devrim Yakut), his son Kemal (Olgun Toker), and his daughters Seher (Hazar Erguclu) and Sirin (Ecem Erkek).
Mustafa is the owner of a small restaurant where he works as a cook from 4:30 am to 5:30 pm each day. His restaurant becomes all his life after he migrated from Adana 30 years ago. Mustafa never returns to his hometown Adana during this time and lives happily in his small world together with his family. His son Kemal (Olgun Toker) also works as a cook in another restaurant but hides this from his parents.

Kemal is not allowed to use his imagination in his father's restaurant and for this reason; he secretly works at another restaurant which is owned by Banu (Ayfer Donmez). Kemal loves to cook different and colorful food like scrambled eggs, spaghetti, and dessert. He gets high credits from his customers and is appreciated by many people except his father. No matter how hard he tries, Kemal cannot gain his father's recognition and approval.
On the other hand, the daughter of Kuzgun family, Seher (Hazar Erguclu), is a successful lawyer. Seher is a beautiful woman who has a big secret in her past: While she is going to the university, she meets a young guy Burak (Ekin Koc) who is studying at the same university. Seher and Burak fall in love with each other and spend 1 year together happily. However, when Burak goes to abroad in order to study, Seher leaves him with no reason and disappears without a trace. Even though they have a true love, these two young lovers are left apart.
In fact, Seher gives birth to a baby girl after Burak goes to abroad. She has nothing to do but to leave her baby temporarily until she graduates from the Law School. Seher gives her baby to someone whom she knows and wants to take her baby back when she becomes a lawyer. However, Seher cannot find that family again when she comes back. She learns that this family has migrated to another city with her baby. No matter how hard she tries, Seher cannot find her daughter. But, she never gives up and dedicates her life to find her daughter.
5 years later, Seher gets news about her daughter. She is afraid of being devastated again because during all this time, she has done her best to find her daughter but cannot achieve to find any trace. But again, she wants to do absolutely anything and decides to go to Adana where her parents originally come from.
Meanwhile, Burak becomes a successful director and returns to Turkey. All this time, he never forgets Seher and wants to find her. For this reason, he makes a movie where he tells about his lost love. Burak aims to find Seher with this movie and wants to learn why she has left him without any reason. His movie becomes so popular and reaches Seher. However, Seher does not want to meet Burak again and goes into hiding as she did years ago.
It becomes so hard to hide all the lies and secrets about the past as time goes by. The life of Kuzgun family turns upside down and the secrets start to come to light one by one. Seher meets Burak out of pure coincidence and finds it impossible to disappear again. At the same time, Mustafa's ordinary life becomes more complicated when a stranger with one eye comes to Istanbul and finds his small restaurant. Meanwhile, Kemal decides to become a partner with Banu and cook his food as he wishes.
In Life of Secrets (Hayat Sırları) tv series story, you will watch how the life of Kuzgun family turns upside down. The secrets of each people come to light one by one. Will Burak learn why Seher has left him with no reason and disappeared without any trace? Will Seher manage to find her daughter? Why Mustafa and Inci have been hiding in Istanbul and never go to their hometown? Will Kemal manage to get his father's recognition eventually and prove that he is a successful cook?
Life of Secrets (Hayat Sirlari) Cast
Ahmet Mumtaz Taylan as Mustafa Kuzgun
Devrim Yakut as Inci Kuzgun
Hazar Erguclu as Seher
Ekin Koc as Burak
Olgun Toker as Kemal
Ayfer Donmez as Banu
Aysegul Cengiz Akman as Melek
Mehmet Bilge Aslan as Zafer
Baris Gonenen as Arhan
Ecem Erkek as Sirin
Gokce Yanardag as Aysen
Ecem Simge Yurdatapan as Tuba
Utku Ates as Murat
Nilgun Turksever as Selma
Efecan Senolsun as Hakan
External Links
Official Site: https://www.startv.com.tr/video/arsiv/dizi/hayat-sirlari/
English Wikipedia:
Imdb:
Instagram: https://www.instagram.com/hayatsirlaritv/
Twitter: https://twitter.com/hayatsirlaritv
Facebook: https://www.facebook.com/hayatsirlaritv/
E-mail:
You Might Also Like
Mercy (Merhamet)
Rebellious (Asi)
Gallery
Life of Secrets (Hayat Sirlari) Tv Series Trailer (English Subtitles)
Life of Secrets (Hayat Sirlari) Tv Series Trailer (Eng Sub)