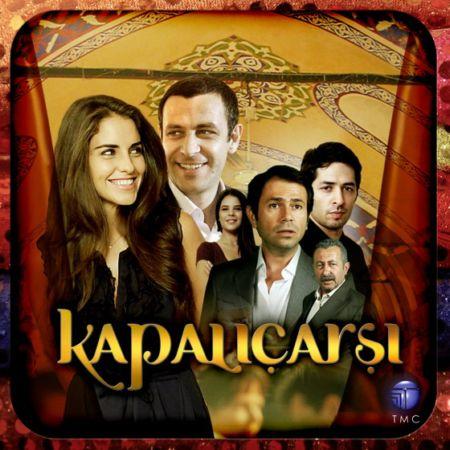 Original Title: Kapalicarsi
English Title: Grand Bazaar
Also Known As:
Genre: Romance, Drama
Episodes: 38
Broadcast Network: ATV
Broadcast Period: September 28, 2009 – October 5, 2010
Production Company: TMC Film
Director: Murat Duzgunoglu
Screen Writer: Gaye Boralioglu, Nese Sen
Cemal (
Nejat Isler
), Mahmut (
Olgun Simsek
), and Arda (Mert Firat) are close friends who live in the same house and work as a salesman in the famous Turkish Grand Bazaar. They have a lower middle-class life and want to be rich. In order to earn much money, they have to achieve one thing: to find a little girl and train her to weave a carpet which will become a miracle. Therefore, they go to Hereke (a small town in Turkey) which is famous for the handmake carpets. In Hereke, Cemal meets Diyar (
Asli Tandogan
) and wants to hire her as a trainer. Diyar is a beautiful, naïve, and stubborn girl. Although she could not go to the college, she passionately manages to improve herself in weaving. At first, she does not accept the offer of Cemal. But when her father wants her to marry one of their fellow citizens Mustafa (Tolga Tekin), she accepts the offer and escapes to Istanbul leaving everything behind. Eventually, a profound love story begins in the Grand Bazaar. Diyar and Cemal draw closer but their story becomes more complicated when Mustafa follows Diyar to Istanbul. Mustafa still loves Diyar and wants to be with her again thus he tries every possible way to gain her hearth.
In this story, you will explore the lives of ordinary people in famous Grand Bazaar. How will the lives of Cemal, Mahmut, and Arda change after the arrival of Diyar? Will Diyar and Cemal eventually confess their feelings? Will they finish the carpet and become rich?
Mert Firat as Arda
Tolga Tekin as Mustafa
Main Characters' Other Popular Dramas
Asli Tandogan: From Lips to Hearth (Dudaktan Kalbe), Slave to Love (Aska Surgun)
Rain Season (Yagmur Zamani)
What is the Fault of Fatmagul? (Fatmagulun Sucu Ne?)