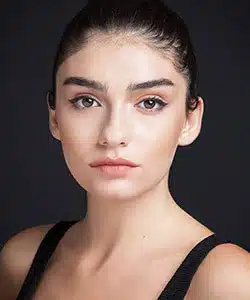 Profile
Name: Hazar Erguclu
Birthdate: January 1, 1992
Birthplace: Nicosia, Turkish Republic of Northern Cyprus
Height: 170 cm
Eye Color: Brown
Hair Color: Dark Brown
Education: Halic University Theatre (Halic Universitesi Tiyatro Bolumu)
Talent Agency: Icon Talent Management
Spouse:
Biography: Hazar Erguclu is a Cypriot Turk. She made her debut with her role Simay in a popular Turkish drama North South (Kuzey Guney). She carried out theatre works targeted to youth at Nicosia municipality.
Hazar Erguclu Tv Series / Movies
2010 – Shadows and Faces (Golgeler ve Suretler) (as Ruhsar) (Movie)
2011 – 2013 North and South (Kuzey Guney) (as Simay Canas)
2012 – Full of Hunger (Acliga Doymak) (as Sena) (Movie)
2013 – My World (Benim Dunyam) (as Ayla) (Movie)
2013 – 2015 Tide (Medcezir) (as Eylul Buluter)
2015 – Moms and Mothers (Analar ve Anneler) (as Kader Ayaz)
2016 – Tight Dress (Dar Elbise) (as Gule) (Movie)
2016 – High Society (Yuksek Sosyete) (as Cansu Koran)
2017 – Snow (Kar) (as Muzeyyen) (Movie)
2017 – Neighborhood (Mahalle) (as Demet) (Movie)
2017 – Ahlat Agaci (as Hatice Karasu) (Movie)
2017 – 2018 Secrets of Life (Hayat Sirlari) (as Seher Kuzgun)
2018 – Gercek Kesit: Manyak (as Leyla) (Movie)
2018 – Dudullu Postal Service (Dudullu Postasi) (as Melis)
2018 – Everything is Beautiful With You (Her Sey Seninle Guzel) (as Melisa) (Movie)
2018 – 2020 The Protector (Hakan: Muhafiz) (as Zeynep Erman)
2020 – 2021 Alev Alev (as Cicek Gorgulu)
2020 – The Agency (Menajerimi Ara) (as Hazar)
2021 – The Affair (Sakli) (as Asli)
2022 – Gonul (Movie)
Awards
2018 – 18. International Frankfurt Turkish Film Festival (18. Uluslararasi Frankfurt Turk Film Festivali) – Best Actress (En Iyi Kadin Oyuncu)
2019 – 56. Antalya Golden Orange Film Festival (56. Altin Portakal Film Festivali) – Best Actress (En Iyi Kadin Oyuncu)
2019 – 24. Golden Objective Awards (24. Altin Objektif Odulleri) – Actress in the Digital Platform Series of the Year (Yilin Dijital Platform Dizisi Kadin Oyuncusu)
2019 – 51. Siyad Awards (51. Siyad Odulleri) – Best Actress (En Iyi Kadin Oyuncu)
Theatre Plays
2021 – Timsah Atesi (as Fianna)
Social
Instagram: Official Instagram Account
Twitter:
Facebook:
Eglen Guzelim (Acoustic)

Eğlen Güzelim (Akustik) - Zeynep Bastık, Hazar Ergüçlü