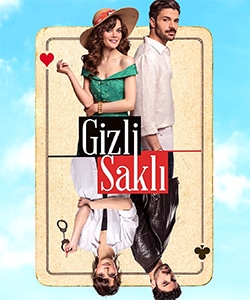 Details
Original Title: Gizli Sakli
English Title: Love On Duty
Also Known As: Secret Mission
Genre: Romantic Comedy, Action
Episodes: 8 (each episode is 105 minutes)
Broadcast Network: Fox TV
Broadcast Period: 8 June 2022 – 3 August 2022
Production Company: No Dokuz Productions
Director: Sahin Altug
Screen Writer: Sahin Altug
Filming Locations: Istanbul, Turkey
Synopsis
Naz (Sinem Unsal) has just graduated from the police academy as the most successful student. Even though her mother always wants her to become a nurse, she chooses a difficult way and becomes a police officer to protect her family. After her father passes away, Naz lives together with her mother and uncle and tries her best to protect them.
Naz's life changes radically after she is assigned to a secret mission together with another police officer Pamir (Halit Ozgur Sari).

To take down a mafia boss, the police force decides to execute a secret plan. According to this secret mission, Naz and Pamir would act like a newly married couple.
Naz and Pamir are supposed to come closer to the mafia boss Tarik (Tardu Flordun), live in his neighborhood, and act like lovers all the time. Their mission is not easy because Tarik is professional and he only works with his close relatives.
Naz takes a new identity and becomes Yaz. She acts as if she is a psychologist. Likewise, Pamir takes a new identity and becomes Levent. He acts as if he is a rich businessman. Throughout this mission, Naz tries her best to become a close friend of Tarik's wife. Pamir, on the other hand, tries his best to gain Tarik's trust.
Naz and Tarik start to live in the same house even though they do not get very well with each other. As the story develops, they also develop some feelings toward each other.
Love On Duty (Gizli Sakli – Secret Mission) tv series story is about two police officers who act as if they are newly married in order to take down a mafia boss. Will Naz and Pamir become successful and gain the trust of Tarik? Will Naz and Pamir get along well with each other? Will Naz manage to hide this secret mission from her family?
Love On Duty (Gizli Sakli) Tv Series Cast
Additional Cast Members
Sebnem Sonmez as Aynur Arica
Bulent Emrah Parlak as Talat Gultekin
Selcuk Borak as Sadullah Yersiz
Ersan Utku Olmez as Numan Akyurek
Fulden Akyurek as Gunday Akyurek
Adin Kulce as Omer Kosuoglu
Ersel Sibil as Ferdi
Emrullah Cakay as Adem
Sinan Sicimoglu as Kadir
Sinem Akyol as Zeynep Kosuoglu
Bala Atabek as Cicek
External Links
Official Site:
English Wikipedia:
Imdb:
Social
Instagram: Official Instagram Account
Twitter: Official Twitter Account
Facebook: Official Facebook Account
Youtube Channel: Official Youtube Channel
You Might Also Like
Cherry Season (Kiraz Mevsimi)
Love and Hate (Seversin)