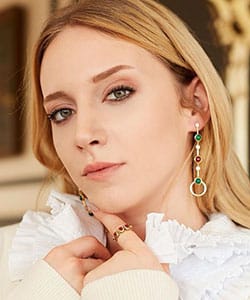 Profile
Name: Hayal Koseoglu
Birthdate: May 26, 1992
Birthplace: Istanbul, Turkey
Height: 170 cm
Eye Color: Green
Hair Color: Blond
Education: Aydin University Fine Arts School – Drama Acting (Aydin Universitesi Guzel Sanatlar Fakultesi Drama Oyunculuk), Istanbul Universitesi State Conservatory Musical Theatre (Istanbul Universitesi Devlet Konservatuvari Muzikal Tiyatro), Ekol Drama Acting Training (Ekol Drama Oyunculuk Egitimi)
Talent Agency: Icon Talent Management
Spouse:
Biography: Hayal Koseoglu was born in 26 May 1992 in Istanbul. She studied at Aydin University Fine Arts School. She started acting while she was only 6 years old. While she was a little child, she took part in popular Turkish dramas Ruhsar and Mahallenin Muhtarlari. At the same time, She took part in theatre plays such as Yakaranlar and Fantastik Hikayeler Makinesi. While acting, Hayal Koseoglu is also interested in music and writes/composes songs.

Hayal Koseoglu Tv Series / Movies
Awards
Social
Instagram: Official Instagram Account
Twitter:
Facebook:
E-Mail:
Trivia
Body Type:
Skills:
Star Sign: Gemini
Blood Type:
Hobbies:
Weight: 60 kg
Hayal Koseoglu Gallery
Hayal Koseoglu – Keske
Hayal Köseoğlu - Keşke / @Akustikhane