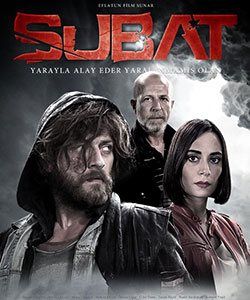 Details
Original Title: Subat
English Title: Shubat
Also Known As:
Genre: Crime, Drama
Episodes: 32
Broadcast Network: TRT 1
Broadcast Period: September 14, 2012 – May 30, 2013
Production Company: Eflatun Film
Director: A. Volkan Kocaturk
Screen Writer: Funda Alp
Synopsis
Subat is a young boy who was left to an orphanage on February and given a name of Subat – which means February in Turkish. While he is staying at orphanage, he is subjected to experiments that give him superpowers.
One day, there starts a fire at the orphanage and 17 orphans die. Subat's face is partially burned in a fire and he is rescued by a homeless guy named Mr. Aziz (Musa Uzunlar). Aziz lives at the tunnels of Istanbul and makes a living by collecting waste. He saves the life of Subat and starts to raise him in a secluded place after discovering his superpowers.
15 years later, Subat (Alican Yucesoy) becomes a young guy with a scar in his face. He lives happily with Aziz and his friend Saltuk (Tansu Bicer) at the tunnels of Istanbul. They have an isolated life from ordinary people and for this reason; they draw attention on public places. They are street dwellers and assumed to be criminal even if they do not do anything wrong.

Subat develops some superpowers over the years. He has a peculiar intelligence and remembers all the details of unimportant events in the past. Also, he is so strong that he can jump off easily and beat several guys at the same time. But, he does not harm anyone on purpose.
After seeing her on TV, Subat falls for a TV reporter Yagmur (Melisa Sozen) who is linked to his past. He goes to shopping malls in order to watch Yagmur whenever possible. His ultimate passion is Yagmur who is a fearless reporter and the daughter of a popular doctor. However, his passion puts him in a danger and Mr. Aziz makes an accident as a result.
Subat and his friend Saltuk takes Mr. Aziz to the hospital and try to do their best to save his life. They need to find money for hospital expenses and the identity card of Aziz for registration. They do not know anything about Mr. Aziz except his name.
Meanwhile, Yagmur finds herself at the middle of underground people. She witness the murder of her father by underground people and for this reason, she is filled with a deep hatred against such people. The next day, she wants to chase news at a crime scene and is attacked by underground people.
Out of pure coincidence, Subat arrives at the crime scene and saves the life of Yagmur. At the crime scene, he finds a death man that has been killed and thrown away by the unknown murderers. While he is trying to understand whether he is dead or not, Yagmur sees it and mistakes Subat for a killer. Without listening to what has happened, Yagmur records the event and reports Subat as a killer.
Now, Subat is a wanted man by the police. After living in isolation for so many years, he faces with the real world. He wants to find the identity of Aziz and at the same time, he needs to escape from the police.
In Subat tv series story, you will explore a wonderful crime/fantasy story about a young street dweller who has some superpowers. Will the police learn the truth about this murder? Will Subat manage to prove his innocence? What will happen when people discover Subat's superpowers? Will Subat and Yagmur manage to learn the truth about the past? Who is Mr. Aziz?
Cast
Alican Yucesoy as Subat
Melisa Sozen as Yagmur
Ozkan Ugur as Samim
Hande Dogandemir as Elem
Nadir Saribacak as Duble
Tansu Bicer as Saltuk
Serkan Ercan as Arif
Turku Turan as Gulum
Ulku Duru as Yildiz
Musa Uzunlar as Aziz Bey
Ece Dizdar as Yesim Kaan Yilmaz as Erik
Ezgi Celik as Leyyal
Damla Sonmez as Gelin
Idil Firat as Bahar
Ahmet Kaynak as Tolga
Ozgur Ege Nalci as child Subat
Ozgur Cevik as Ali Poyraz
Sermet Yesil as Deli Ibrahim
Ilker Kizman
External Links
Official Site:
English Wikipedia:
Imdb: http://www.imdb.com/title/tt2543258/

You Might Also Like
The End (Son)
I Will Tell You a Secret (Sana Bir Sir Verecegim)
Shubat (Subat) tv series trailer (Eng Sub)
Shubat (Subat) tv series trailer (Eng Sub)
Clip – Bir Derdim Var Bin Dermana Degismem
Shubat (Subat) Tv Series - Bir derdim var bin dermana degismem
Clip – Yalansin Dunya
Shubat (Subat) Tv Series - Yalansin Dunya
Clip – (sagopa kajmer) Kotu Insanlari Tanima Senesi
Shubat (Subat) Tv Series - (sagopa kajmer) kotu insanları tanıma senesi
Clip – (Sagopa Kajmer) Ben Husrana Komsuyum
Shubat (Subat) Tv Series - (Sagopa Kajmer) Ben Hüsrana Komşuyum