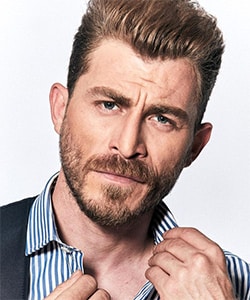 Profile
Name: Eren Vurdem
Birthdate: October 7, 1988
Birthplace: Konya, Turkey
Height: 181 cm
Eye Color: Blue
Hair Color: Yellow
Education: Halic University State Conservatory – Theatre (Halic Universitesi Konservatuari Tiyatro Bolumu)
Talent Agency:
Spouse:
Biography: Eren Vurdem was born in 1988 in Konya. He made his debut with his role in turkish series Payoff (Hesaplasma). After then, he continued his acting career in a successful way. He became popular with his role as Cinar in popular Turkish series Love Out of Spite (Inadina Ask).
Eren Vurdem Tv Series / Movies
2009 – Payoff (Hesaplasma)
2010 – 2012 The Hill (Sefkat Tepe) (as Erhan)
2012 – Shubat (Subat) (as Muyo)
2013 – Back Streets (Arka Sokaklar) (as Osman)
2015 – Last Letter (Son Mektup) (as Erenkoy Asker) (Movie)
2015 – 2016 Love Out of Spite (Inadina Ask) (as Cinar Barutcu)
2016 – Journey (Yolculuk) (Movie)
2017 – Sumela'nin Sifresi 3: Cunyor Temel (as Oguzubillah) (Movie)
2017 – Wolf Trap (Kurt Kapani) (as Yavuz) (Movie)
2017 – 2019 Oath (Soz) (as Ates Acar)
2019 – Ne Olur Gitme (Movie)
2019 – 2020 The Ottoman (Kurulus Osman) (as Konur Alp)
2020 – Turks Are Coming: Sword of Justice (Turkler Geliyor: Adaletin Kilici) (Movie)
2020 – A Woman Scorned (Sadakatsiz – Unfaithful) (as Mert Gelik)
Awards
Social
Instagram: https://www.instagram.com/thevurdem/
Twitter: https://twitter.com/ErenVurdem
Facebook:
E-Mail:
Youtube Channel: https://www.youtube.com/channel/UC5hx0UIrDvWNLqNKb-Jqjug
Trivia
Body Type:
Skills:
Zodiac Sign:
Blood Type:
Hobbies:
Weight:
Eren Vurdem Gallery