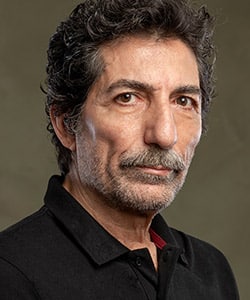 Profile
Name: Mustafa Ugurlu
Birthdate: November 25, 1955
Birthplace: Karaman, Turkey
Height: 178 cm
Eye Color: Brown
Hair Color: Black
Education:
Talent Agency: Onem Gunal Agent Management
Spouse:
Biography: Mustafa Ugurlu was born in 25 November 1955 in Karaman. He is the brother of Turkish actor Ahmet Ugurlu. He went to primary, secondary and high school in Bursa. He took his first role on television in 1993 with Turkish series Riza Beyler. Mustafa Ugurlu took part in many television projects and theatre plays at State Theatres. He was awarded with Best Actor in Supporting Role at Golden Orange Film Festival in 1998.

Mustafa Ugurlu Tv Series / Movies
1993 – Mr. Riza (Riza Beyler)
1995 – Melek Apartment (Melek Apartmani)
1996 – Cafe Casablanca
1997 – Cholera Street (Agir Roman) (as Reis) (the movie)
1998 – There is Murder (Cinayet Var) (the movie)
1999 – Elevator (Asansor) (as Can) (the movie)
2000 – Hard Goal (Zor Hedef) (as Mustafa)
2001 – Life in Underground (Yeraltinda Dunya Var) (as Nebil) (the movie)
2001 – The Very Devil (Basbelasi) (as hit man) (the movie)
2002 – Camur (as Ali) (the movie)
2002 – Children of Mistery (Sir Cocuklari) (as Palyaco) (the movie)
2002 – Easy Money (Kolay Para) (as Servet) (the movie)
2004 – What Luck (Sansa Bak) (as Can)
2004 – Heart Scream (Yurek Cigligi) (as Erdal) (the movie)
2004 – Mrs. Boss (Patronice) (the movie)
2004 – A Love Piece (Bir Dilim Ask) (as Ferit)
2005 – We Are Not Innocent (Masum Degiliz) (as Yusuf)
2006 – Turkish Tiger (Anadolu Kaplani) (as Orhan)
2007 – Those Who Live with Games (Oyunlarla Yasayanlar) (the movie)
2007 – Destiny (Kader) (as Omer)
2007 – Man of My Home (Evimin Erkegi) (as Emre)
2009 – Game of Justice (Adalet Oyunu) (as ilker) (the movie)
2010 – Dirty White (Kirli Beyaz) (as Koksal)
2012 – Works Forces (Isler Gucler)
2012 – Naked Reality (Ciplak Gercek) (as Korhan)
2013 – Don't Go Father (Gitme Baba) (as Kadri) (the movie)
2014 – Dreams and Hopes (Dusler ve Umutlar) (as Musa)
2015 – Jungle (Orman) (short movie)
2015 – Don't Look Far Away (Uzaklarda Arama) (as Coskun) (the movie)
2015 – Memoirs of a Wind (Ruzgarin Hatiralari) (Mikhail) (the movie)
2015 – Milestone (Milat) (Asaf Demirci)
2016 – 2017 Insider (Icerde) (Mudur Yusuf)
2018 – Sins of My Father (Babamin Gunahlari) (as Ferruh)
2018 – A Crazy Wind (Bir Deli Ruzgar) (as Doctor Cenap Tunc)
2018 – Crash (Carpisma) (as Selim Gur)
2020 – Orada (Short Movie)
2021 – Waiting for You (Seni Cok Bekledim) (as Cemal)
2022 – Deception (Aldatmak) (as Tarik Yenersoy)
Awards
1996 – Ankara Art Institution Award (Ankara Sanat Kurumu Odulu) – (Gurultulu Patirtili Bir Hikaye)
1998 – 35th Antalya Golden Orange Film Festival (35. Antalya Altin Portakal Film Festivali) – Best Actor in Supporting Role (Cholera Street) – En iyi yardimci erkek oyuncu (Agir Roman)
Theatre Plays
1984 – Dusus
1984 – Lisistrata
1985 – Mustafa
1985 – Barbaros Hayrettin
1986 – Nalinlar
1989 – Bu Yapan Iki Kisi
1991 – Ayla Ogretmen
1990 – Vatan Diye Diye
1993 – Gurultulu Patirtili Bir Hikaye
1994 – Kugular Sarki Soylemez
1997 – Atesle Oynayan
1998 – Gilgames
2000 – Haydutlar
2001 – Bu Bir Ruyadir
2002 – Kral Lear
2005 – Sersemler Evi
2006 – Bahar Noktasi
2008 – Sokrates'in Son Gecesi
Mustafa Ugurlu Gallery
Mustafa Ugurlu