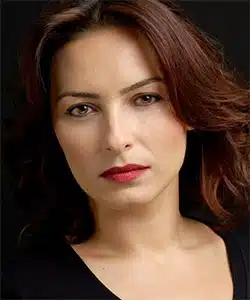 Profile
Name: Ayca Bingol
Birthdate: January 16, 1975
Birthplace: Istanbul, Turkey
Height: 160 cm
Eye Color: Green
Hair Color: Auburn
Education: Istanbul University State Conservatory – Theatre (Istanbul Universitesi Devlet Konservatuari Tiyatro Bolumu)
Talent Agency: Renda Guner Cast Agency
Spouse: Ali Gokmen Altug (m. 2001-present)
Children: Aylin Altug, Leyla Altug
Biography: Ayca Bingol was born in 16 January 1975 in Istanbul. She gradauated from Istanbul University State Conservatory in 1998. Ayca Bingol started her acting career in 1996 in Dormen Theatre and took part in theatre plays at Theatre Fora during the period of 1998-2000. She started her television career in 1993 with her role in popular Turkish series Super Dad (Super Baba). Ayca Bingol became popular with her role as Cemile in a period drama As Time Goes By (Oyle Bir Gecer Zaman Ki). She got married to actor Ali Gokmen Altug and has two daughters.
Ayca Bingol Tv Series / Movies
1993 – Super Dad (Super Baba) (as Ayca)
1996 – Tatli Kaciklar (as Hulya)
1998 – Taxi Station (Cicek Taksi) (as Canan)
1999 – Ah Bir Zengin Olsam (as Ayca)
1999 – Sir Dosyasi (as Alev)
2000 – Gozluk (Movie)
2000 – Evdeki Yabanci (as Ipek Erez)
2002 – Vine Mansion (Asmali Konak)
2002 – Anne Babamla Evlensene
2002 – Eternal Love (Kinali Kar) (as Nazar Beyoglu)
2004 – Sihirli Annem (as Basak)
2004 – Yadigar (as Sedef)
2006 – Tramway (as Elif) (Movie)
2006 – Taslarin Sirri (as Gulergul)
2006 – 2007 Two Families (Iki Aile) (as Fusun)
2007 – Knife Edge (Bicak Sirti)
2007 – Hayat Kavgam
2008 – Little Women (Kucuk Kadinlar) (as Ozgur)
2009 – Bez Bebek (as Ruya)
2009 – Eternal (Sonsuz) (as Aylin) (Movie)
2009 – Angels and Gamblers (Melekler ve Kumarbazlar) (as Aysun) (Movie)
2009 – 2010 Dangerous Love (Samanyolu) (as Evsed)
2010 – 2013 As Time Goes By (Oyle Bir Gecer Zaman Ki) (as Cemile)
2011 – Ay Buyurken Uyuyamam (as Melek) (Movie)
2013 – My World (Benim Dunyam) (as Handan Bayindir) (Movie)
2014 – The Outsiders (Benim Adim Gultepe) (as Gulumser)
2016 – My Father and His Family (Babam ve Ailesi) (as Nilgun Kayalar)
2018 – Muslum (as Emine Akbas) (Movie)
2019 – Sisters (Kardes Cocuklari) (as Umran Cetin)
Awards
2008 – 13th Sadri Alisik Theatre and Cinema Awards (13. Sadri Alisik Tiyatro ve Sinema Oyuncu Odulleri) – Best Actress in Theatre Plays (Bana Bir Picasso Gerek) – Yilin En Iyi Kadin Tiyatro Oyuncusu (Bana Bir Picasso Gerek)
2008 – 12th Afife Theatre Awards (12. Afife Tiyatro Odulleri) – Best Actress in Theatre Plays (Bana Bir Picasso Gerek) – Yilin En Basarili Kadin Oyuncusu (Bana Bir Picasso Gerek)
2008 – 6th Theatre Awards (6. Tiyatro Tiyatro Odulleri) – Best Actress in Theatre Plays (Bana Bir Picasso Gerek) – Yilin Kadin Oyuncusu (Bana Bir Picasso Gerek)
2009 – 16th Ciragan Lions Awards (16. Ciragan Lions Odulleri) – Best Actress (Nehrin Solgun Yuzu) – Yilin En Iyi Kadin Oyuncusu (Nehrin Solgun Yuzu)
2011 – 38th Golden Butterfly Awards (38. Altin Kelebek Odulleri) – Best Actress (As Time Goes By) – Drama Dalinda En Iyi Kadin Oyuncu (Oyle Bir Gecer Zaman Ki)
2011 – 2011 Antalya Television Awards (2011 Antalya Televizyon Odulleri) – Best Actress (As Time Goes By) – Drama Dizisi En Iyi Kadin Oyuncu (Oyle Bir Gecer Zaman Ki)
2012 – 2012 Antalya Television Awards (2012 Antalya Televizyon Odulleri) – Best Actress (As Time Goes By) – Drama Dizisi En Iyi Kadin Oyuncu (Oyle Bir Gecer Zaman Ki)
2013 – 1st New Theatre Journal Effort and Success Awards (1. Yeni Tiyatro Dergisi Emek ve Basari Odulleri) – Best Actress in Supporting Role (Cehov Makinesi) – Yardimci Rolde Yilin Kadin Oyuncusu (Cehov Makinesi)
2016 – 16. Direklerarasi Audience Awards (16. Direklerarasi Seyirci Odulleri) – Best Actress in Theatre Play (Hansel ve Gretel'in Oteki Hikayesi) – En Iyi Kadin Oyuncu (Hansel ve Gretel'in Oteki Hikayesi)
2019 – 2nd International Izmir Film Festival (2. Uluslararasi Izmir Film Festivali) – Best Actress in Supporting Role (Muslum) – En Iyi Yardimci Kadin Oyuncu (Muslum)
Theatre Plays
1998 – Oyun Karisti
1998 – Kare As
1998 – Zafer Madalyasi
1998 – Olacak Sey Degil
1999 – Yukarida Biri Mi Var?
2001 – Bugun Git Yarin Gel
2001 – Klaksonlar, Borazanlar ve Birtlar
2005 – Tipki Sen Tipki Ben
2006 – Paramparca
2008 – Bana Bir Picasso Gerek
2008 – Nehrin Solgun Yuzu
2009 – Solen
2012 – Cehov Makinesi
2013 – Nehir
2015 – Hansel ve Gretel'in Oteki Hikayesi
2020 – Ben Anadolu
Social
Instagram: https://www.instagram.com/aycabingol1/
Twitter:
Facebook:
E-Mail:
Trivia
Body Type:
Skills:
Zodiac Sign: Capricorn
Blood Type:
Hobbies:
Weight: 50 kg
Ayca Bingol Gallery